Leeds Trinity University has ranked 2nd in the UK for Journalism and 9th in the UK for Law in the Guardian University Guide 2024.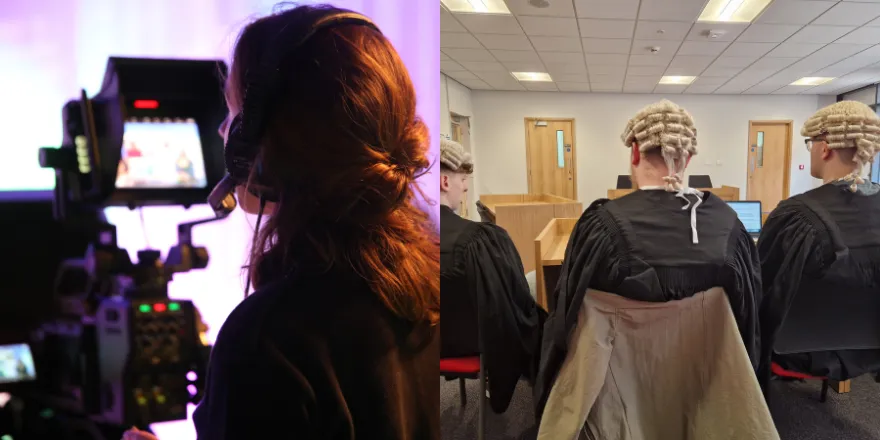 The Guardian University Guide league tables rank institutions across the UK by subject, looking at student satisfaction, staff numbers, spending, and career prospects. The overall aim is to help prospective students find the course that best suits them.
The newly released data has shown that Leeds Trinity's Journalism offer, which has consistently produced industry-standard talent, is ranked second in the UK, reflecting an outstanding reputation for vocational training, professional work placements and mentoring opportunities. That is a rise of 15 places in comparison to last year.
Meanwhile, the University's Law programme, through which students build an invaluable portfolio of legal experience with pro bono activity during their degree, has been ranked ninth in the UK – a rise of 22 places since the 2023 table.
Nathan Kelly, Head of School of Digital and Screen Media, said: "I am delighted that our Journalism courses have been ranked second in the UK in the Guardian University Guide 2024 and continue to earn high praise. The School of Screen and Digital Media at Leeds Trinity has produced a long list of talent such as national broadcasters and journalists Richie Anderson, Lauren Layfield and Mobeen Azhar, and our latest place in this guide shows that we continue to provide students with valuable input that aids and supports their studies and career ambitions.
"The team working within the Centre for Journalism provides students with high quality opportunities to learn, build experience and make industry contacts including the annual flagship Journalism and Media Week. I'd like to offer a huge congratulations to my colleagues whose efforts are truly deserving of this recognition."
Amy Lund, Deputy Dean of Social Sciences, commented: "As a new and dynamic Law School we are delighted with our subject position in the Guardian University Guide. Our lecturers combine their professional experience and industry contacts with academic expertise to prepare our Law graduates for exciting careers. Our embedded placements, industry visits, European trips, mooting competitions and dedication to knowing every student give a fantastic university experience."
Professor Malcolm Todd, Provost and Deputy Vice-Chancellor of Leeds Trinity University, added: "The scores achieved by Leeds Trinity University's Centre for Journalism and School of Law is testament to the hard work of the staff who strive to deliver high-quality teaching and career-led experiences for our students.
"Journalism and Law are two great examples of the programmes on offer at Leeds Trinity University and we are proud to see them reflected so positively in the Guardian's analysis."
Further information about Leeds Trinity's Journalism and Law courses can be found online.
Undergraduate Open Days at Leeds Trinity University are taking place between September 2023 and January 2024. For more information and to book, visit the Open Day webpage.