Foundress of the Sisters of the Cross and Passion
Elizabeth Prout - the only child of a respectable tradesman – was born in Shrewsbury, Shropshire, England. It is reported – in Anna Maria Reynold's account of The Story of Elizabeth Prout – that she said 'yes to her vocation to serve God at 'The Shine of the Three Saints' at St Anne's beautiful Passionist Church in Sutton, Lancashire, England.
Along with Mother Mary Joseph, Blessed Dominic Barberi and Father Ignatius Spencer both Passionist Priests, the shrine became a place where each of them would hear the voice of God and change their lives and the lives of countless others by saying 'yes' to serving the Lord.
The daughter of devout Anglican (Anne Prout) and Edward Prout (a skilled craftsman) who made casks for the brewery for which he worked, Elizabeth Prout led a reasonable normal life in Shrewsbury, England. After the Brewery where her father worked closed, very little is known about Elizabeth Prout for the next ten year or so and it is considered that her life was 'wrapped in silence' in those intervening years. The only information that one might draw upon is what was happening in the social, political and communal spheres during these years before she began exploring her Christian faith more deeply. During the time that Elizabeth was growing up, there would have been very little expectation that she would be educated; rather, it is more likely that she would have been expected to get married and be supported by her husband as she brought up a family. However, God must have had other plans for her life.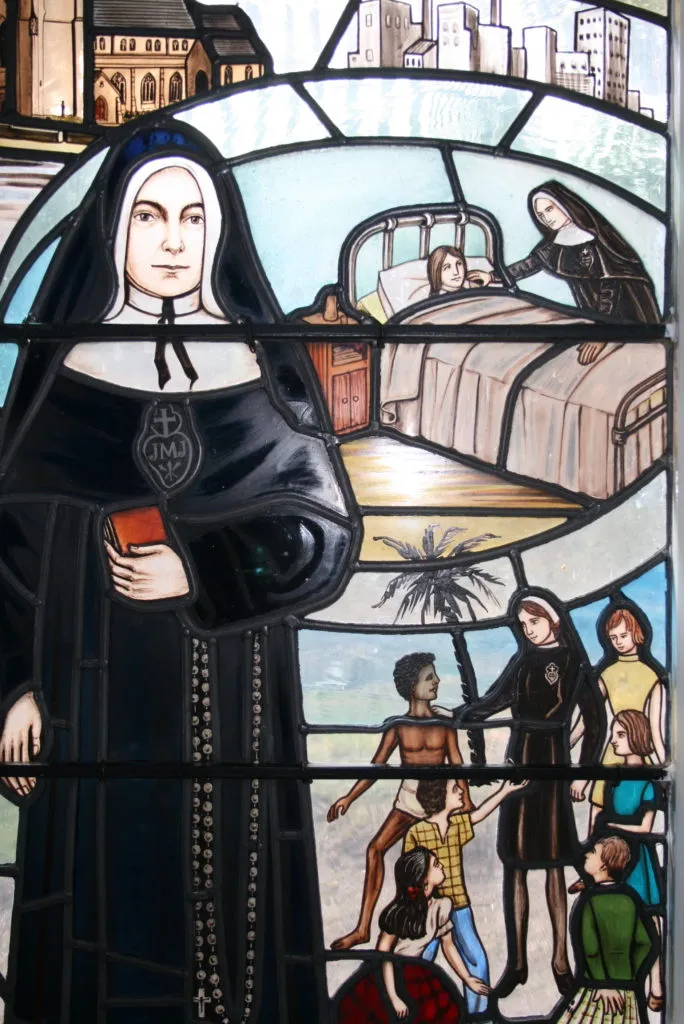 While there is no evidence of who 'received' Elizabeth Prout into the Catholic Church, it is believed that she was perhaps received into the Church by Dominic Barberi (now Blessed Dominic). Dominic Barberi was a Catholic priest who led the Passionist community in England at Aston Hall and received Blessed John Henry Newman into the Church in 1845.
Elizabeth's personality was loving, kind, outgoing, sweet and even-tempered. Many expected her to get married but a lot of unexpected events would happen between 1843 and 1846 that would mean that Elizabeth would become a Catholic and, much to the surprise of her parents and family, she was become devoted to the religion that was most hated in the in the country at that time.
She is thought to have agonised about the decision to become a Catholic as she would have seen how Catholics, most notably the lead for the Passionist order, was being treated and that if she was to become Catholic this same treatment lay ahead for her too. Unfortunately for Elizabeth, her parents were so disappointed and angered by her decision to covert to Catholicism that they expelled her from their house and cut all ties with her. They saw her decision as disrespect and as a 'betrayal' of their values and what they stood for.
In 1848 – and now 28 years old – Elizabeth joined the Convent of the Sisters of the Infant Jesus. Six months later she was wearing a habit and had the name Stanislaus – in honour of the Jesuit priest who was also cut off from his family for converting to Catholicism as she had done.
Due to a tubercular knee injury which she sustained in 1849, she was sent home from the convent and was (surprisingly) received back home by her parents. He mother nursed her back to full health and was secretly hoping that her daughter would convert to the Anglican faith during this time. But Elizabeth had no such plans for her life.
When she could walk again she started going to Mass and indicated clearly to everyone that she would remain a Catholic for the rest of her life, and once again disappoint the expectations that her parents had for her to get married and have a family. They even locked her in her room in hope that she wouldn't be able to attend Mass and perhaps have a change of heart. She needed to make a big decision: choose her family and a husband or her Catholic faith. And, once again, she said a big 'yes' to God and at 33 years old walked away from her parents.
She subsequently started her teaching career in Manchester (in St. Chad's Catholic Parish) and would become so shocked to see the conditions that people in industrialised Manchester were living and working in. The living conditions and poverty that she observed was the worse that she had ever seen and encountered. She met and interacted with numerous famine-stricken families from Ireland who had escaped poverty and come to Manchester to try to ebb out a better living for themselves. They lived in dirty cellars, confined unventilated spaces, that we damp and full of misery.
The conditions for workers in the factories were also awful and sub-human. People were worked to the bone just to get enough money to feed their families. Pay was below the minimum expectations (25p per week on average). But in the midst of all of the poverty, stress and pain, Elizabeth was able to see precisely what her vocation was in life. She now knew why she had to leave her parents, avoid marriage, and serve God.
She saw the misery of the people in Manchester and knew that it was her job to help people out of the poverty. All she could say is 'yes, and humbly accept what her divinely appointed mission and purpose actually were. As Anna Maria Reynold's put it, her attitude is summed up in the following phrase: 'it is better to light even one candle than to curse the darkness.' With the help of another Sister from the order, she began serving the poor – feeding them, nursing them, providing hope, help and support where she could. She gave particular attention to the factory workers as they needed help to stay strong and be able to provide for their families and keep working.
One might ask where her strength and devotion to continue her mission in spite of criticism, challenge, difficulty, isolation, suffering and pain but the answer in her mind was simply: Christ crucified. The Crucified Christ was her hope, strength and salvation to continue what she loved and did best: serving and loving the Lord and others.
She knew the riches of the Bible and the power of prayer. She contemplated the passion and Christ as much as could throughout her novitiate and and she grew ever more aware of what the cost of discipleship is. Taking up the cross for what our divine purpose is life is a key tenet of the Cross and Passion order's mission and purpose. Their commitment is to Christ crucified: the cross and the passion. Like a sword through a person's heart, she would live suffering and pain – and recognise this in others – in order to serve the Lord in everything that she did. When we submit to God's will and purpose, the suffering makes sense, has a purpose and can be lived out in all that we do and say. We are kept strong by virtue of the fact that we are doing what we are 'called' to do in life by the Lord. Therefore, nobody can tear this down.
Prayer played a huge part in Elizabeth's life as she engaged more deeply in the mystery of her own vocation and the symbolism of the Cross to drive her forward in her work and vocation. In 1851, with the assistance of two priests – she started to lead a group that would set up an institute for young with very little education to experience religious life without being religious sisters as such.
Elizabeth and two other sisters moved into a religious house in 69 Stocks Street which was called St Joseph's Convent. They called the Institute 'The Catholic Sisters of the Holy Family.' This new venture was a new way of saying 'yes' to God and demonstrating in a very public way her commitment to serving the poor and needy and being part of the story and pain of the suffering Christ.
At a time when religious unrest was a common and quite a scary feature of life in Manchester – and many Catholics were in fact scared of being Catholic – she continued her work taking up her own cross and participating the passion of Christ every step of the way. Her attitude as regards admissions to the institute was that anyone who loved God, irrespective or rank, social standing, privilege or status, should be admitted. Nobody should be judged because of their rank, financial standing or position in society. God loved the world and so did Elizabeth Prout and the order that was seeking to provide education, work and opportunity to as many people as possible. There was no hierarchy in the institute as everyone was treated with equal dignity and respect. Someone who taught students was treated in the same way as those who did manual work. This ethos was central to the Passionists and their work in the institute.
The institute was revolutionary in its perspective and ethos - and was criticised by some for being so progressive – but it was the work of the Lord that Elizabeth loved and served so nothing could stop it from taking shape.
Priests in Manchester subsequently approached Elizabeth - as they knew of her devotion to the poor and the work in the institute – and asked her to set up a school for the poor in the community where they lived. The majority of people were Irish who were very poor indeed and needed help to find access to skills and education to help them out of poverty.
Now called Mother Mary Joseph, she was clear in her own mind that only way out of poverty was through education. Without education, nothing would ever change and the voice of the poor and destitute would never be heard properly in society. Reports suggest that in the early days, Mother Mary Joseph cooked herself, cleaned, taught classes, attend to the poor and took care of the elderly sisters in the community too. She was totally in her mission as a woman who lived for others – completely and totally. The words of the psalmist comes to mind here 'I would rather be a doorkeeper in the house of my God than dwell in the tents of the wicked'. (Psalm 84: 10).
This is the story of the foundress of the Cross and Passion Sisters who opened our university and worked with the Catholic Education Service to provide education to all – as they believed that this was the route out of poverty towards a better futures for individuals, communities and the society as a whole. We at Leeds Trinity are so proud to be part of this story and to continue the mission of the Passionists of 'cross' and 'passion', love and service to the poor and needy and education as the transformational lens and nexus towards a better life for everyone! Heralding hope is the key lens through which we see our education offer at LTU, we provide quality education for as many students as possible while remaining loyal to our mission of seeing education and the hope that many people need to see, envision and live their future differently, transformed and hope-filled.
In short, we provide: 'Education for Hope.'