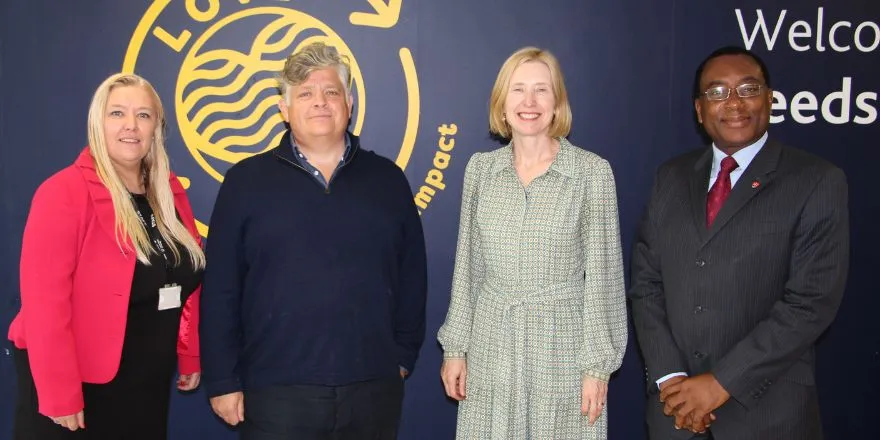 Leeds Trinity University has awarded a funded scholarship through its Directorate of Catholic Mission to enable a person living and working in the Leeds region to pursue a Masters by Research spanning over a year of full time study or two years, part time.
Sponsored by The Leeds Church Institute (LCI), the scholarship will engage in research across the city related to the Catholic social teaching principles and marginalised groups in society due to poverty, social exclusion and deprivation.
The research will examine the historical underpinnings of the term 'New Fellowship'. It will seek to apply a new understanding that incorporates how, together with the principles of Catholic social teaching, the vulnerable and underprivileged in society can feel more empowered in their communities by sharing their own stories and experiences to help others.
Following a rigorous application process, the panel have selected Norman Pickavance, who will undertake the research over two years starting in September 2023. Norman joins Leeds Trinity University having had multiple senior roles in public and private sector institutions. Norman is a law graduate, he has worked on the Serving All report which explored financial security, wellbeing and inclusion strategies for the UK's working poor, sponsored by HSBC, Lloyds Bank, IKEA and Santander. Norman has also worked for the former Labour Party Leader, Ed Miliband, on a report to uncover the issues surrounding zero hours contracts.
Norman Pickavance said: "I've been a board Director in the financial sector and have been a government advisor on policy and social mobility, and I've spent the last five years running a think tank researching issues that cross the boundary between business and society. I was interested in this scholarship as it focuses on deprived and excluded people in Leeds, and I have had a strong interest in this for a long time. Having a social impact through my work is something close to my heart. This scholarship helps me to combine my passion with my faith, and I am looking forward to exploring faith in action in the Leeds community and offer new opportunities to bring people together. "
Delivery of Leeds Trinity University's Catholic mission and values are led by Dr Ann Marie Mealey, Director of Catholic Mission for the University. It is hoped that through this scholarship the work of the Leeds Church Institute and Leeds Trinity University to promote the principles of Catholic Social Teaching will help both organisations to contribute to the much-needed practical steps to 'humanise the world' through research and scholarship.
Dr Ann Marie Mealey, Director of Catholic Mission at Leeds Trinity University said: "I am pleased that Norman has accepted this scholarship. Norman's previous work in the financial sector was achieved through funding offered from world- leading banks, and it makes sense that his focus now is on finding the ethical solutions and scholarly frameworks to further analyse and inform the way forward beyond the financial and economic challenges of our time.
"This opportunity is a clear indication of how Leeds Trinity's mission and values support the study of social justice and finding ways of humanising our world through scholarship and education. It also shows our commitment and that of the Leeds Church Institute to supporting and promoting the study of faith in multiple contexts across the city of Leeds, which may also have implications on a national and international stage.
"Thanks are owed to Leeds Trinity University academics Professor Martin Barwood, Director of Postgraduate Studies who managed the administrative steps around the scholarship, and to Dr Suzanne Owen, Reader in Theology and Religious Studies, who will co-supervise the research with me."
Helen Reid, Director of the Leeds Church Institute said: "We are thrilled to have Norman in place for this important piece of research. Leeds Church Institute exists to promote learning for a faithful city, and this project in partnership with Leeds Trinity University will help us to share theological learning for the benefit of everyone in Leeds.
"Lifting up the voices of marginalised people is a key aim of LCI. Norman's work will give us the tools we need to empower more people in their local communities."
The partnership with Leeds Church Institute and resulting scholarship form part of Leeds Trinity University's strategy to embed its foundational Catholic values into the fabric of its offer for staff and students, and its wider local, national and international communities.
For more information about Leeds Trinity's strategic plan, mission and values, visit the University website