Leeds Trinity University has partnered with the charity PATH Yorkshire to successfully provide trainee opportunities for Black and Minority Ethnicity (BAME) communities in roles across the organisation.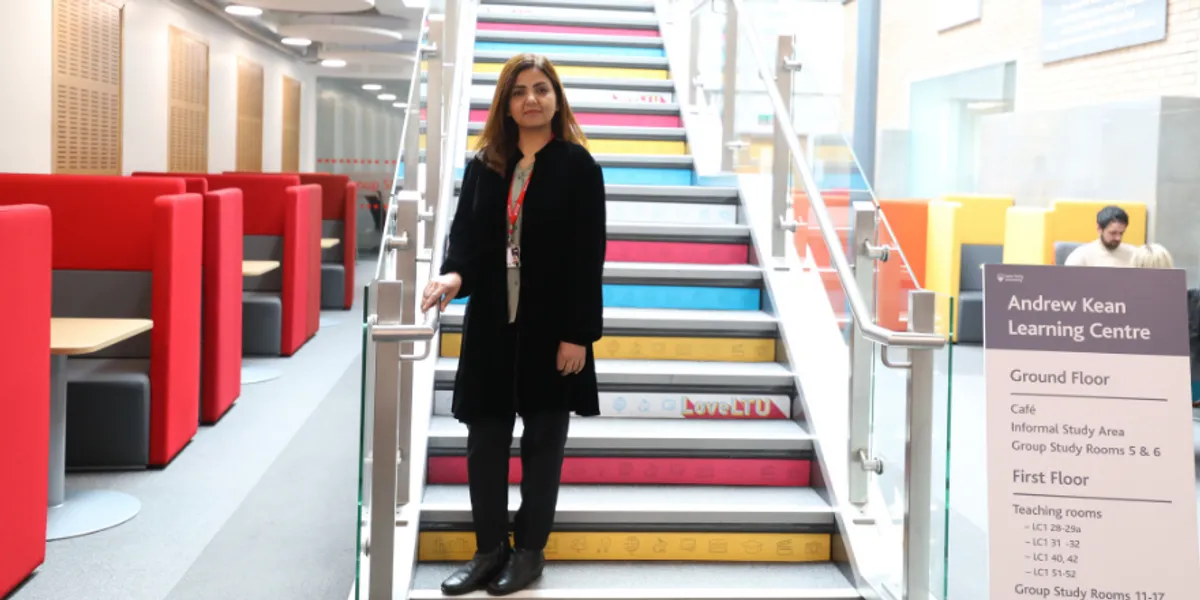 Over the last 18 months, Leeds Trinity has been working with four PATH Yorkshire trainees in its library, human resources and student administration teams. The programme is new to Leeds Trinity and has already seen one trainee progress into a permanent role with the University whilst the others are successfully working through their placements.
The aim is to give trainees an understanding of a new area of work, enabling them to identify and pursue several career opportunities whilst also giving them valuable transferable skills and experience. Trainees complete a qualification relevant to their job role, spending one day per week studying while the other four days are on campus gaining practical experience. During their placement, they work closely with a variety of colleagues to foster a better understanding of the workplace and the different backgrounds of the people within it.
Asma Aziz (photographed), a trainee who completed her placement with the Leeds Trinity Library team in 2022 and has since secured a job as an Information Assistant at the University, said: "From the day I stepped into the world of User Services at the University Library I have learnt a great deal. The placement has enabled me to build my confidence to work independently. I have been encouraged, supported and motivated by everyone around me. I have been given opportunities to attend training, conferences and some useful staff development sessions delivered by Leeds Trinity."
Laura Bewick, Library User Services Manager who initiated the link with PATH Yorkshire and subsequently line managed Asma through her placement, said: "A sector report in 2019 made it abundantly clear that libraries need to do more to address inequality. That was when we first engaged with our HR team to find ways to address this. The Covid-19 pandemic slowed our progress for a period, but Asma has been a fantastic addition to the team since she joined. We are delighted with how successful the placement was, so much so that we have taken on another trainee this year."
Sue Carr, Head of Organisational Development, who initiated the partnership with PATH Yorkshire, said: "It has been fantastic to see our partnership with PATH produce such tangible results. Our trainees have gained such valuable work experience so far and we are delighted that, at this early stage, we are already starting to see traineeships being converted into permanent roles."
"We are proud to be an inclusive university where everyone is valued, respected and encouraged to contribute, and I'm delighted that the University has taken such positive and proactive action to support this scheme. We look forward to continuing to work with PATH Yorkshire to provide further placements in the future."
In 2020, Leeds Trinity University became the first in Yorkshire to achieve the Race Equality Charter Bronze Award in recognition of its progress towards a comprehensive programme to achieve race equality and promote inclusion. The programme included a reform of the University's recruitment processes which has led to an increase in the proportion of BAME staff from 4.7% in 2018 to 10.1% across academic and professional services roles currently.
For 37 years, PATH Yorkshire has worked with employers and organisations in tackling the underrepresentation of BAME communities, migrants and refugee groups in their workforce. Leeds Trinity's partnership with the charity is a part of the University's equality, diversity and inclusion strategy. This aims to enhance all aspects of equality across the University, to strengthen its community and approach to inclusivity.
For more information about equality, diversity and inclusion at Leeds Trinity, visit the website.
To learn about the job opportunities available at the University, visit the job portal.