David Best, Professor of Addiction Recovery at Leeds Trinity University has played a leading role in successfully building the evidence and momentum to make Middlesborough an Inclusive Recovery City.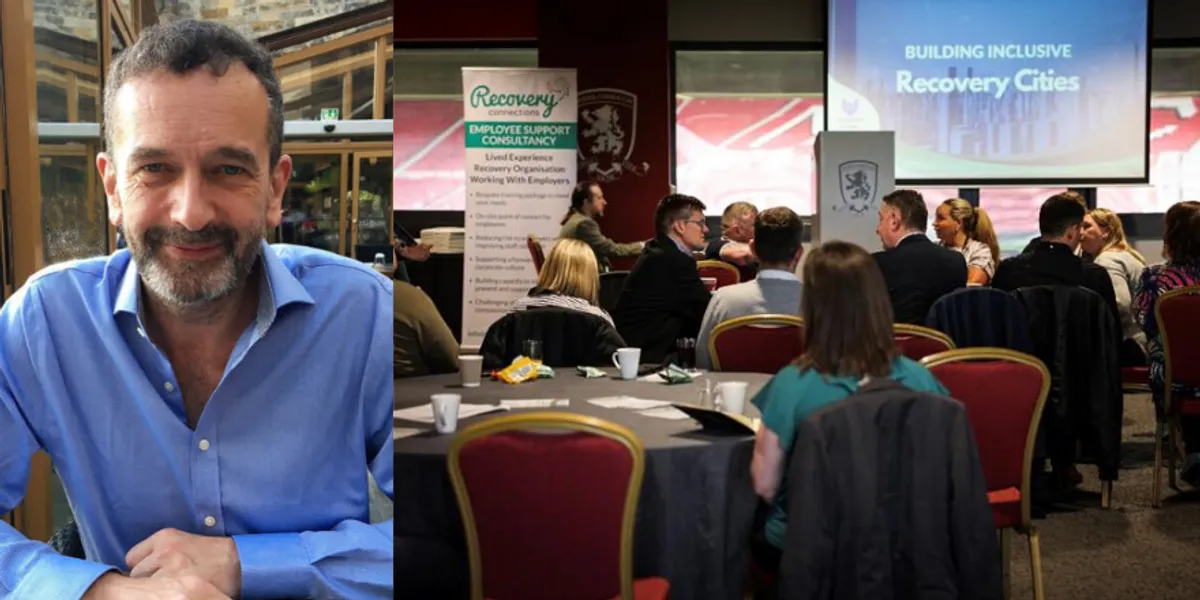 This will see the town follow in the footsteps of European cities including Ghent, Dublin and Gothenburg, and Professor Best, the world's first Professor of Addiction Recovery, is now working to encourage other cities follow suit.
On Tuesday 9 May, Professor Best joined international speakers from industry, recovery organisations, academia and the community at an event hosted by North East based charity Recovery Connections at The Riverside Stadium in Middlesbrough. The event identified best practice taking place in Teesside with discussions on how others could follow suit to support communities and individuals affected by addiction and to harness the power of recovery.
Co-led by Professor Best and Recovery Connections' CEO Dot Smith, speakers included Middlesborough's largest employer, PD Ports' CEO Frans Calje; Dr David Patton (Senior Lecturer in Criminology at the University of Derby); Dr Ed Day (the UK government's National Recovery Champion, Clinical Reader in Addiction Psychiatry at the Institute of Mental Health at the University of Birmingham and Consultant Psychiatrist with Birmingham and Solihull Mental Health NHS Trust).
The day ended with Mark Adams, Director of Public Health for Middlesbrough and South Tees, signing the Recovery Cities charter, and representatives from other UK regions pledging their commitment to progress such activities in their respective towns and cities.
Professor David Best said: "Recovery is a social, peer-to-peer contagion that starts with 'if they can do it, I can do it'. If people don't know where or how to find recovery, due to current hierarchies, outdated systems and policies, and stigma and discrimination, they can't reach their potential and neither can society.
"Middlesbrough is ahead of the curve in this respect thanks to the direct commissioning of lived experience initiatives via public health leaders and Recovery Connections, its strong emphasis on community and social enterprises and the buy-in we have already seen from industry and higher education which will only continue to grow.
"If this can be replicated around the UK, the possibilities will be endless and we are already working with other cities that have expressed an interest in being a part of the Inclusive Recovery City model, both in the UK and as far afield as the USA, Canada and New Zealand. Our aim here will be to identify who will do what and how we can share ideas and innovations, showcase recovery success and disseminate and celebrate recovery successes at a community level. The broader aim is to challenge stigma and exclusion and ensure that recovery successes are integral to community growth and wellbeing."
Professor Alex Nunn, Dean of Research at Leeds Trinity University, said: "As a University, we are delighted that Professor Best is so centrally involved in developing the Recovery Cities model. This places Leeds Trinity University at the absolute forefront in this area as a national and international leader through the launch of its Centre for Addiction Recovery Research."
The concept of an Inclusive Recovery City identifies the significant value to society that people in recovery make, not just in terms of supporting peers into recovery but more broadly (for example, around 80% of people in long-term recovery take on voluntary roles, twice as many when compared to the general population), and around 75% are in full-time employment. However, it also considers the negative challenges and barriers they face, not just in terms of initially accessing healthcare when unwell, but the ongoing social and employment-related discrimination and exclusion which persists well into, and often inhibits, recovery.
Find out more about Professor David Best and his research or read his latest blog on the website.