Leeds Trinity University's Professor Leigh Hoath has been elected as Co-Chair of the Association for Science Education (ASE).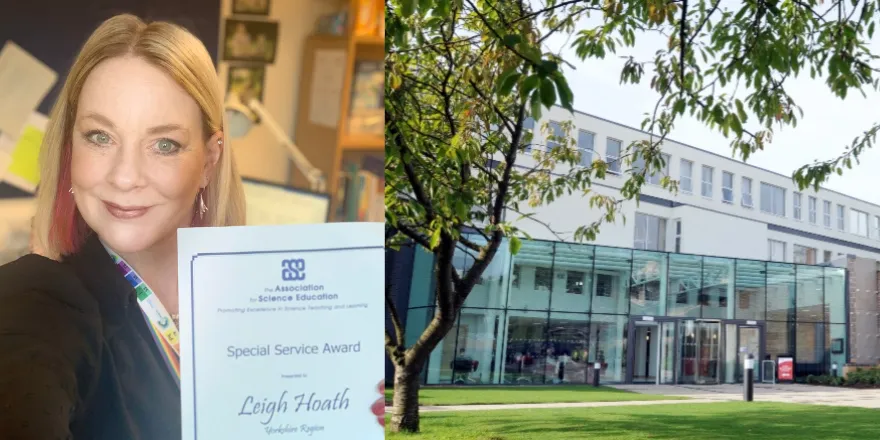 Leigh has been a member of the ASE for almost 20 years and in December 2020 was recognised with a Special Service award for her work supporting the growth of trainee engagement with the organisation. She was the editor of their flagship journal publication Primary Science for six years and has been a member of many committees including Research, Publications, and Education Group which she represents on the Board of Trustees.
On 1 August, Leigh, alongside Dr Alex Sinclair from St Mary's University, Twickenham, took up Co-Chair Elect of the organisation. She and Alex are the first to co-chair this position where they will work closely with the ASE Chair, Helen Harden and the ASE Past Chair, Jane Turner.
The ASE has been supporting science teachers and technicians for over 100 years. It seeks to create a powerful voice for science education professionals to make a positive and influential difference to the teaching and learning of science both nationally and internationally.
Leigh and Alex will be supporting the organisation's CEO Lynn Ladbrook with a focus on ensuring the association is at the forefront of providing the right support for science educators in the current educational climate.
Professor Leigh Hoath said: "Having been involved with the Association for Science Education for a while now, it is a real privilege to take on this Chair. Being able to work closely to support the association alongside the President Professor Michael Reiss and following in the footsteps of many great Chairs before us is something that I am very grateful to have the opportunity to do."
Professor Michael Reiss, President of the Association for Science Education, said: "Leigh and Alex bring with them a wealth of experience across both primary and secondary phases and have rich backgrounds not only in the classroom but also in academia, as authors, as editors and as consultants. They are a credit to the ASE and able to represent the Association externally, as well as command respect internally."
Professor Malcolm Todd, Provost and Deputy Vice-Chancellor at Leeds Trinity University, said: "We are delighted to see Leigh as Chair of this important association. Her Professorship in Science Education reflects her contributions to the science education community, and we are proud to support her in this role here at Leeds Trinity University."
The news of Professor Hoath's appointment as Co-Chair at the Association for Science Education comes just a few months after the launch of Climate Adapted Pathways for Education (CAPE), an alliance she has spearheaded as a co-founder. Working alongside school trusts and federations, CAPE's mission focuses on implementation, curriculum, and professional development and calls on educators, schools, and organisations across the UK to work together to ensure that high-quality climate change education is available to all children and young people.
Professor Hoath's work with The ASE and CAPE aligns with Leeds Trinity University's strategic objective to create a sustainable environment in all aspects of how and where it works.
To read Professor Leigh Hoath's profile and learn more about her work around science education, the environment and sustainability, visit the University's dedicated research portal.