Leeds Trinity University is among 30 English universities to share an £8.1 million fund to invest in artificial intelligence (AI) and data science postgraduate conversion course scholarships to increase diversity.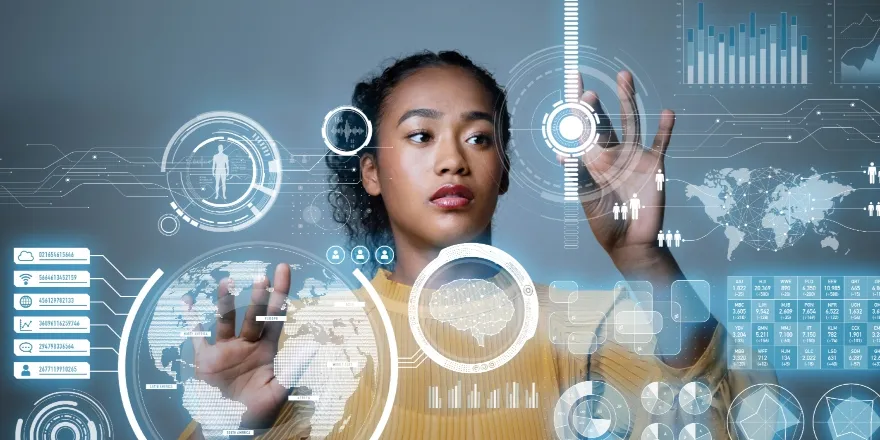 This funding from the Department for Science, Innovation and Technology (DSIT) and Office for Artificial Intelligence (OAI) is being awarded by the Office for Students (OfS) to universities to deliver AI and data science scholarships in order to provide further opportunities for students from underrepresented groups.
The OfS launched a funding competition in September 2022 to invite universities and colleges to bid for funding to deliver scholarships. After a competitive selection process, Leeds Trinity University has successfully secured the funding to provide scholarships for students on the MSc Data Science and Artificial Intelligence programme.
Applicants will need to demonstrate that they fall under at least one of the nine underrepresented groups as identified by the OfS, with scholarships prioritised for women, black students, students registered disabled and those from low socioeconomic backgrounds, to increase diversity in the tech sector.
Successful applicants will receive £10,000 over the course of the academic year. The University is committed to the contribution of an additional £1,000 per scholarship student. That makes the total value of the scholarship £11,000 for the academic year.
John Blake, Director for Fair Access and Participation at the OfS, said: "This funding provides opportunities for students underrepresented in these industries to achieve their career aspirations. This funding builds on the successes of the programme's recent students, and provides the UK's data science and AI sector with a wider pool of highly skilled graduates.
"Following a competitive bidding process, we are investing an initial £8.1 million in 30 universities to deliver high quality conversion courses that lead to positive outcomes for students. This funding will enhance the relationships established between universities and employers that are vital for the success of this industry.
"Universities have responded to the various needs of these students, such as offering flexible learning for mature students and for those with caring responsibilities. Early evidence suggests students from the priority groups are successfully completing their courses and connecting with employers. We encourage more employers to get involved to nurture this talent and help train the digital workforce of tomorrow."
Professor Charles Egbu, Vice-Chancellor at Leeds Trinity University, commented: "As a career-led University and a widening participation institution, we are proud of our track recording of teaching and supporting students from all backgrounds. I am delighted that the Office for Students has chosen the University among others to offer this excellent scholarship to students from underrepresented groups."
Professor Yanguo Jing, Dean of the Faculty of Business, Computing, and Digital Industries at Leeds Trinity University, added: "Our MSc Data Science and Artificial Intelligence programme is designed with a strong industry focus, ensuring students gain the practical skills and knowledge that businesses and organisations are looking for in the rapidly growing field of data analytics, data science and artificial intelligence. We look forward to working with the OfS and industry partners in this project to ensure that our students are well prepared for their careers in data science and AI."
Further information about the scholarship, including eligibility, is detailed on the Leeds Trinity website.
For more information about the University's MSc in Data Science and Artificial Intelligence, visit the course webpage.