Leeds Trinity University alumna Charley Bergman was "excited and grateful" after winning the Student of the Year award at the National Council for the Training of Journalists (NCTJ) Awards for Excellence.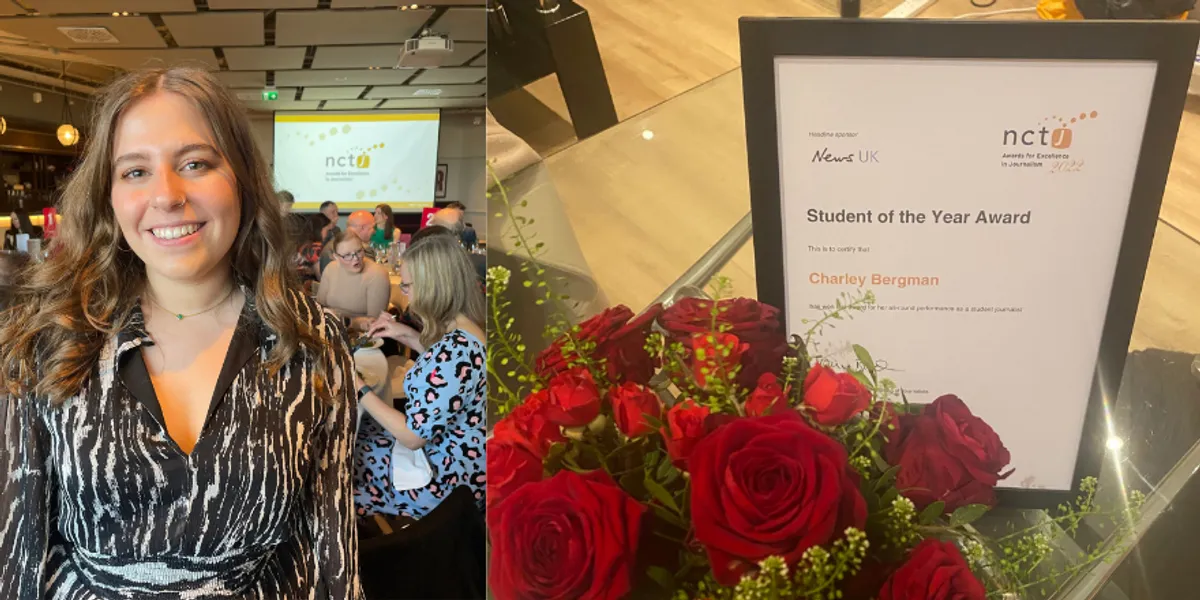 Charley, who completed her MA in Journalism at Leeds Trinity in 2022, took home the top prize at the prestigious awards ceremony on Thursday 2 March.
Now a production journalist at ITV Calendar in Leeds, Charley was up against four other hopefuls in the Student of the Year category, which was made up of the best-performing candidates from over 1,100 who completed their Diploma in Journalism exams in 2022.
The NCTJ Awards for Excellence recognise and reward the best journalism students, apprentices and trainees, highlighting the achievements of individuals with promising careers ahead of them.
Charley achieved the best overall gold diploma results which require a combined seven As and shorthand at 100 words per minute. She received a cheque for £200 from award sponsor Yahoo UK.
Charley said: "I was absolutely shocked to win the Student of the Year award. I did not expect it and felt so excited and grateful to have won. I think the reason I achieved such high grades was because I genuinely enjoyed learning about the topics. I could not have done it without my Leeds Trinity lecturers who supported me through my studies and continue to support me with my career."
"I loved every part of the Journalism MA and NCTJ diploma, which have both set me up for a career in the sector. I would not have got my foot in the door without them. I had very little experience prior to the degree, I'd never written for a student paper or done any work experience at all, but the course gave me the confidence and experience I needed to apply for entry level journalism roles and now I am working in my dream job."
Andrew Glover, Programme Leader for MA Journalism at Leeds Trinity University, said: "Charley was regarded as a tenacious all-rounder who could spot a good story and pursue it with determination. She is naturally talented, always positive and cheerful and was a pleasure to teach. Our MA in Journalism was a perfect fit for Charley and we are all delighted she made the most of her time with us."
For more information about the MA Journalism course, visit the Leeds Trinity University website.