On Wednesday 24 May, Leeds Trinity University hosted an event with the Howard League for Penal Reform to explore ways that research can help to overcome the challenges and key issues facing the criminal justice system and its rising prison population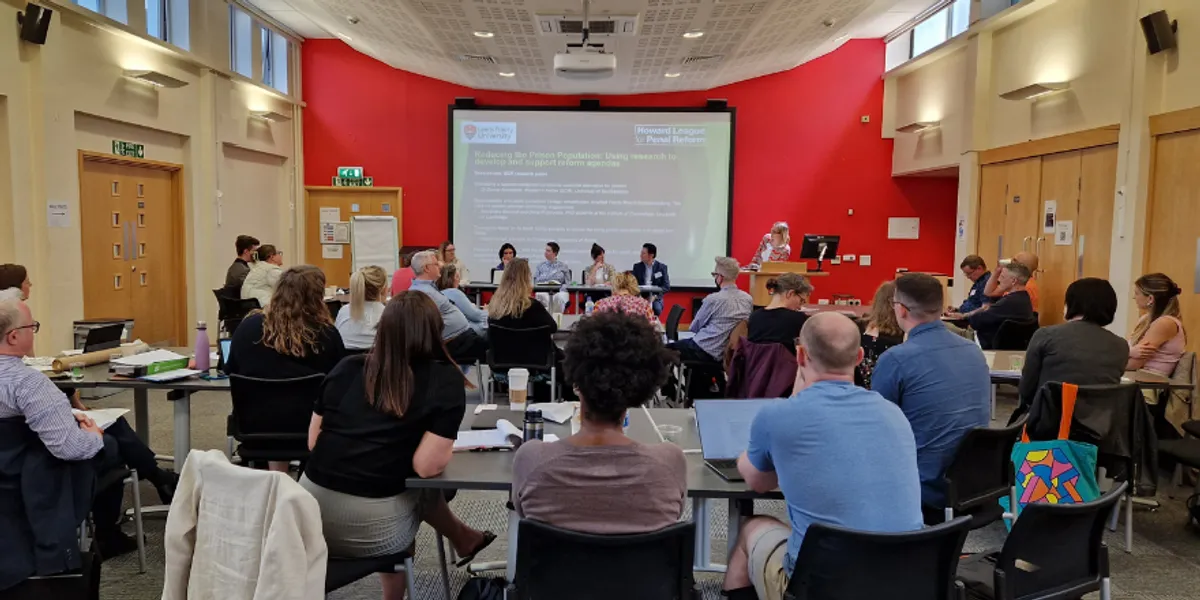 Titled 'Reducing the prison population: Using research to develop and support reform agendas', it was aimed at Early Career Researchers (ECRs) based in universities as well as other research engaged organisations.
The event was organised by a team of ECRs, including Dr Sarah Waite from Leeds Trinity University, Tahir Abass from University of Leeds, Dr Rosie Kitson-Boyce from Nottingham Trent University, and Dr Katy Roscoe from University of Liverpool in collaboration with the Howard League for Penal Reform. With support from Leeds Trinity University's Research and Knowledge Exchange Support Fund, the event was held at its Horsforth campus. Representatives from over 21 universities across the country attended the event, as well as individuals involved within the justice sector more broadly.
The Howard League for Penal Reform is the oldest penal reform charity in the world and hold consultative status with the United Nations. Their high-profile work has seen an end to several injustices within the sector, including an end to the routine strip-searching of children in custody. The charity has led major inquiries within the sector and their work is complemented by an international peer-reviewed journal that publishes high-quality theory, research and debate on issues of crime and justice across the globe.
The latest prison population projections for England and Wales suggest that it will increase, reaching 94,400 prisoners by March 2025. Evidence shows that prison is ineffective in terms of enabling people to move on from crime, and that there are widespread and long-term harms resulting from imprisonment.
The event was designed to highlight ECR research and provided opportunities to hear from and engage with people working and shaping the criminal justice system including the penal voluntary sector as well as people with direct experience of the system.
The day began with a welcome by Dr Sarah Waite, Lecturer in Applied Criminal Justice at Leeds Trinity University. A member of the Howard Leagues's Research Advisory Group, Sarah played a central role in the organisation of the event. This was followed by presentations from other early career researchers, giving each the opportunity to discuss their work with peers and respected sector representatives.
The second half of the day commenced with a keynote speech from Lynn Saunders OBE, Professor of Applied Criminology at University of Derby. Professor Saunders has 34 years of experience working in the Criminal Justice system, holds a PhD, two honorary doctorates and was awarded an OBE in the 2017 New Years Honours list and the Guardian award for Public Sector Leadership excellence.
This was followed by an innovative 'living library' where invited stakeholders represented 'living books' who share their own stories and experiences and encourage group dialogue about themes of decarceration through their expertise and research interests. Stakeholders included Ben Leapman, Editor of Inside Time, Gemma Buckland, Director of Do It Justice, Professor Barry Godfrey researcher and Deputy Chair of Cheshire Magistracy, Dr Bill Davies Convict Criminologist and Prison Educationalist, Anita Dockley Research Director of the Howard League, and Associate Professor Claire Vilarrubi.
Dr Sarah Waite said: "The aim of the event was to build evidence, ideas, strategies and actions to challenge the established criminal justice paradigm. I felt privileged to be able to bring people together to do this at Leeds Trinity University as an early career researcher myself, this was a great opportunity to hear from and connect with others, as well as consider and challenge ideas around how research can drive reform.
"There is a great benefit in events such as this for both our staff and wider research culture. Additionally, the event aligns closely with our values of knowledge and excellence by promoting opportunities for research, development and learning."
Claire Vilarrubi, an Associate Professor at Leeds Trinity University and the delivery lead for the MSc Applied Custodial Leadership course which in an integral part of the national Unlocked Graduates Leadership Scheme, was one of the features in the 'living library' at the event. She added: "The Howard League for Penal Reform's mantra 'Less crime, safer communities, fewer people in prison' resonates strongly with what we are trying to achieve through our curriculum and research at Leeds Trinity University.
"It was a pleasure to be part of the event, to see the ongoing work of talented early career researchers and an inspiring keynote from Professor Lynn Saunders OBE. Another highlight was the opportunity to spend the afternoon presenting and discussing not only the challenges and issues faced by the sector, but also ways in which our collective work can help to find solutions which will have a positive impact on peoples' lives."
Find out more about the Masters Degree and in Applied Custodial Leadership course at Leeds Trinity University, visit the Unlocked Graduates website.