On Wednesday 24 May, Leeds Trinity University held its third annual Black Lives Matter conference at its Horsforth campus.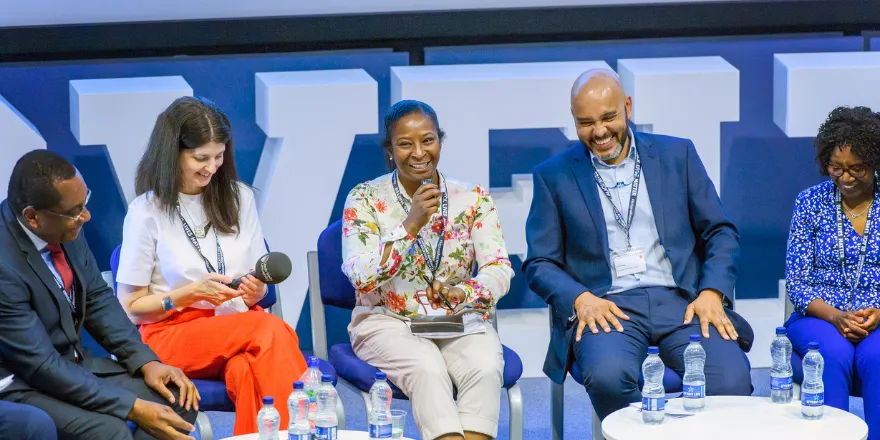 The conference was free to attend and saw 260 engaged attendees contribute to the talks and workshops throughout the day. Attendees included staff and students from Leeds Trinity and other universities, as well as members of the Leeds and West Yorkshire community and some from further afield. They came together to collaborate, share knowledge and hear from speakers and other audience members using their lived experiences.
The conference opened with an introduction from the Vice-Chancellor of Leeds Trinity University. Quantity Surveyor and academic, Professor Charles Egbu, has been a leader in Higher Education for over 25 years. He is also one of the first Black Vice-Chancellors in the UK.
Professor Charles Egbu said: "Leeds Trinity University is the first University in Yorkshire to have achieved the Race Equality Charter (REC) Bronze award. The Black Lives Matter conference has been yet another landmark event in the history of Leeds Trinity and its journey to be an anti-racist establishment, marking the successes and sacrifices made by Black people.
"Racism manifests itself in many ways from words without actions and broken promises of solidarity to health disparities, inequitable educational outcomes, and a lack of representation of Black people in leadership roles. The Black Lives Matter conference focused on Health, Education and Leadership. The conference aimed to encourage discussion, reflection and challenge anti-Blackness in its many forms, and it did just that with lots of takeaways to consider and action."
Leeds Trinity University received the Race Equality Charter Bronze award in 2020 in recognition of its commitment to improving the representation, progression and success of Black, Asian and Minority Ethnic students and staff. As part of this, the conference brought together a range of expert presenters and guests to lead conversations around race equity in the sector and beyond.
On the day, audiences heard from keynote speakers sharing knowledge and data and brave students sharing their experiences.
Foluke Ajayi, Chief Executive at the Airedale NHS Foundation Trust, shared personal stories on how she become aware of the inequalities in health. Foluke shared her experiences of Black physical and mental health in the NHS and asked all to reflect on practices, stand up, speak out and be counted when addressing racism where we see and experience it.
Nathan Ghann, Programme Director at The Educate Group, focused on the importance of data and in particular its relevance in addressing the Black degree awarding gap. Nathan said: "Data tells a story and without it we can't set targets, KPIs or goals, understand, analyse, and apply it. Once we see the data and understand it, we need to be emotionally aware, respectful, mindful and listen, as well as echo voices of colour."
Heather Paul, Senior Lecturer at Leeds Beckett University, captured the audience with her talk about her mother 'The Black Woman Activist Behind the Blue Plaque.' Gertrude Paul was the first Black headteacher in Leeds and the co-founder of Leeds Carnival. There is a blue plaque installed on the wall of the school she worked at. An audience member also relayed his experiences of being taught by Heather's mum and the difference she made to so many. The session ended with a Welcome to Leeds video in memory of Gertrude and her work.
The student panel, made up of Jess Asamoa of Leeds Conservatoire, Alen Achina, Winifred Ekwere from Nottingham Trent and David Ojo and Lewis Miles-Berry from Leeds Trinity University, focused on ideas and experiences from these students on how individuals can all do better. The powerful session moved the audience to tears. The panel was followed by a choice of workshops where smaller groups discussed the points they wanted to raise.
The speaker to take to the stage discussing the ethnic index and representation in higher education was led by David Mba, Deputy Vice-Chancellor at University of the Arts London.
The conference wrapped up with a final session from the Black leaders panel and Q&A about anti-racist leadership.
The day ended with an exclusive preview of a performance from the Northern School of Contemporary Dance. 'Seeds, Dreams and Constellations' is a specially commissioned LEEDS 2023 piece in collaboration with artist Corinne Bailey Rae and choreographer and CEO of Northern School of Contemporary Dance, Sharon Watson. It had its official premiere in Leeds the day after the Black Lives Matter conference.
The Black Lives Matter conference was created and produced by Shames Maskeen, Lecturer in Psychology at Leeds Trinity University.
Shames Maskeen said: "We began producing and hosting our Black Lives Matter conference after the murder of George Floyd on 25 May 2020 in the United States. Subsequently we saw tokenistic and performative solidarity statements from many organisations.
"Here at Leeds Trinity University, we aim to ensure that our statements are genuine, impactful, and translated into action. This conference began because, through our Race Equality Charter mark journey, our Black students and staff said they wanted a platform to share their lived experiences and that is still the heart of this conference.
"This conference is the one day in the year that we are not discussing whether racism exists, or whether Black Lives Matter, or having to justify our lived experiences. The day was a way for us all to not forget what we have heard and learnt, and to think of how we can influence change and get to a better place for all in higher education."
To see the photographs from the conference visit Leeds Trinity University's Flickr channel.