Leeds Trinity University recently welcomed industry experts to speak to students across the School of Digital and Screen Media.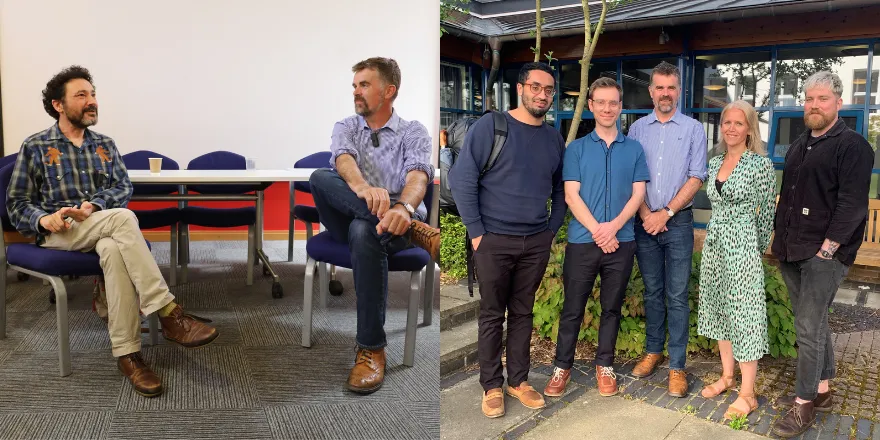 First, second and third-year students all took part in a Q and A session with screenwriter and The League of Gentlemen member Jeremy Dyson, followed by a panel discussion with industry experts including filmmaker Brett Chapman, producer Hugh Mann Adamson, photographer Lisa Stonehouse, and director Louis Bamber, as part of the department's End of Year Media Show.
Richard Knight, Career Support Manager at Screen Yorkshire, chaired the panel discussion and talked about how students can prepare for their careers after University.
As part of the panel, students received expert advice and insights from the group on how to crack the media industry and what employers look for when taking on graduates.
Elric Williams, Senior Lecturer in Media at Leeds Trinity University, said: "Events like these give our students the perfect opportunity to increase their employability skills and listen to experts that know the industry inside-out, preparing them for life after graduation and securing a job in a notoriously tough industry.
"The calibre of our School of Digital and Screen Media means that we have strong relationships with experts across the world of media and film, so we are able to bring incredible people like Jeremy Dyson and the panel onto campus to talk to our students and share their experiences, as well as giving them a chance to network."
The End of Year Media Show at Leeds Trinity University was delivered as part of Screen Yorkshire's Connected Campus initiative, which was set up to forge closer relationships between TV and film professionals, production companies, broadcasters and students that are trying to break into the industry.
Richard Knight, Career Support Manager at Screen Yorkshire, said: "As we continue to develop Screen Yorkshire's flagship Connected Campus programme, we are constantly adapting our programme to meet the needs of students. The Leeds Trinity Q and A with Jeremy Dyson and subsequent industry-expert panel discussion was the most forward-looking 'end of year' event I've ever experienced. What better way to help soon-to-be graduates connect themselves to the industry than to hear many words of reassurance from one of the country's top writers, followed up by a panel of industry experts offering highly tailored careers advice? It was such a great session."
Established in 2002, Screen Yorkshire has championed the film, television, games and digital industries in Yorkshire and the Humber for nearly two decades.
Read more about the courses available in the School of Digital and Screen Media on the Leeds Trinity University website.