Leeds Trinity University is holding a 'Creation Station' at its Horsforth campus as part of its partnership with LEEDS 2023.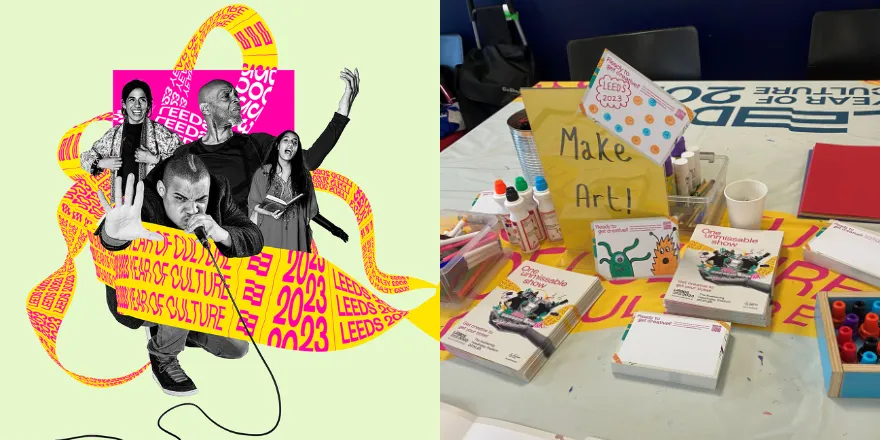 The 'Creation Station' is an opportunity for members of the public, staff and students to get creative and enter the ballot for tickets to the LEEDS 2023 launch event – The Awakening.
Anybody can drop in from 11.00am to 4.00pm until Wednesday 23 November. Entries can include taking a photograph, drawing a picture or making a piece of art and sharing it with LEEDS 2023 by uploading the image of the creation via the online form.
By sharing a creation, individuals will be entered into the ballot for a chance to win four tickets to The Awakening on Saturday 7 January at Headingley Stadium.
The event, which will be hosted by television presenter Gabby Logan and broadcaster Sanchez Payne, is set to celebrate Leeds' cultural heritage and future, and will feature music, poetry, dance, comedy and much more.
Nathan Kelly, Head of School of Digital and Screen Media at Leeds Trinity University, said: "We are excited to be a partner of LEEDS 2023 and provide our staff and students with an opportunity to get creative and win tickets to what is going to be a magnificent opening event at Headingley Stadium on Saturday 7 January.
"We look forward to supporting LEEDS 2023 in many different ways, including as a venue, and we are proud to be able to connect our students and community with a hugely exciting programme of events for LEEDS 2023."
Kully Thiarai, Creative Director and CEO of LEEDS 2023, said: "In challenging times, the story of our creativity in Leeds can provide much needed comfort, joy and inspiration to ourselves and to the nation. Together we will awaken the sleeping giant of our city's promise and conjure an extraordinary year into being, creating memories that will stand the test of time. It will be a year when we all get to tell our stories, old and new, known and forgotten, in an act of determined collective defiance. And we invite everyone to be a part of it."
LEEDS 2023 will celebrate a year of culture in the city, intended to create a lasting legacy of economic and social impact. Leeds Trinity University is a Gold Partner of LEEDS 2023 and will support the programme of creative experiences, which starts with The Awakening in January.
The ballot for entries to the launch event closes on Friday 25 November. For more information, visit the LEEDS 2023 website.