Leeds Trinity University alumna Abbey Maclure was "over the moon" after picking up the Trainee of the Year award at the National Council for the Training of Journalists (NCTJ) Awards for Excellence.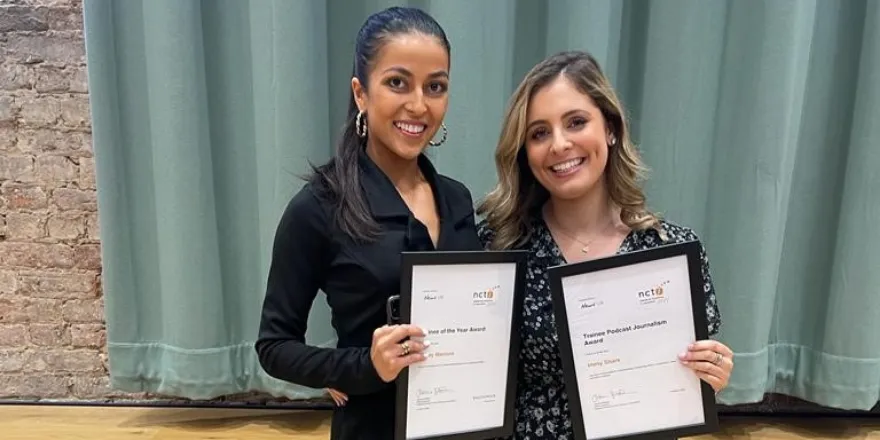 Abbey, who completed her MA in Journalism at Leeds Trinity in 2019, bagged the top prize at the NCTJ awards ceremony on Thursday 17 March.
The NCTJ Awards for Excellence recognise and reward the best journalism students, apprentices and trainees, highlighting the achievements of individuals with promising journalism careers ahead of them.
Abbey, who is now a reporter for the Yorkshire Evening Post (YEP), won against three other hopefuls in the Trainee of the Year category, which was made up of the best-performing candidates who completed their National Qualification in Journalism (NQJ) exams in 2021.
Immy Share, who graduated with an MA in Journalism from Leeds Trinity in 2020, was also commended in the Podcast Journalism category for her podcast on online abuse, which highlights the serious issue of trolling on social media.
Abbey said: "I'm over the moon to have come away with the Trainee of the Year award. I really studied for the rigorous NQJ exams, so to have been recognised for my work is a lovely boost.
"It was an honour to join all those shortlisted at the ceremony in Manchester. It was a fabulous celebration and a chance to get to see some amazing journalism from students and trainees across the country. To have been recognised among them, in the last year that I was eligible for the NCTJ Awards for Excellence, is an amazing feeling.
"I want to give a very special mention to Jenny Kean, the leader of the Journalism MA at Leeds Trinity, who has been my cheerleader since day one – as well as every student who comes into her classroom. Her support, and the support of all the other fantastic tutors at the university, has continued well beyond graduation day and I'm so thankful for that. The course was the foundation for everything I've gone on to achieve and for any budding journalist thinking of applying – go for it. It will be the best decision you make for your career."
Jenny Kean, MA Journalism Course Leader at Leeds Trinity University, said: "We are so delighted at both Abbey and Immy's success at the awards. For Abbey to secure the top marks in the country for her NCTJ exams shows how hard she has worked to achieve this standard. The bar is set high but these graduates have proved that the skills they learned on their MA Journalism course at Leeds Trinity provided a launchpad for career success."
For more information about the MA Journalism course, visit the Leeds Trinity University website.