A Leeds Trinity University mature student has graduated with an MA in Family Support, the only course of its kind in the UK, having secured a place on the University's PhD studentship programme.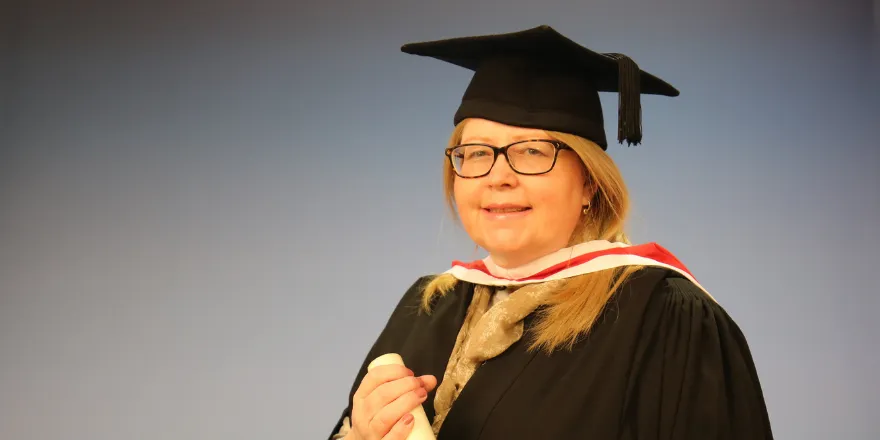 Grandmother Michelle Nattrass, 47, has achieved her degree while volunteering with Special Educational Needs and Disability Information Advice Support Service (SENDIASS) in Leeds and Family Action. She has also balanced volunteering and studying alongside being the primary carer for her son and grandson.
Michelle joined Leeds Trinity in September 2019 having always had an interest in family support services, after receiving help over the years due to her son's diagnosis with autism and learning disabilities, as well as taking on full guardianship of her grandson.
She was first interested in Leeds Trinity University as the MA in Family Support was the UK's only postgraduate course in this subject area, with the opportunity to conduct empirical research.
Michelle's research into birth-parent contact in special guardianship gained her the programme prize and a place to begin her doctoral studies where she will continue her research into the same topic.
She said: "My passion for learning has been reignited during my time at Leeds Trinity University. It has also given me a new perspective on how I can help others.
"Research is extremely important in leading to change in social care policy and practice. I hope that extending my research has a real impact on improving experiences for special guardians in the future."
She added: "My confidence in my academic ability has improved greatly and I have made connections with other researchers and professionals. I am now a member of the Kinship Researchers' Network, where I will be giving a presentation of my research findings early next year."
Dr Sue Elmer, MA Family Support Programme Coordinator, said: "Michelle joined the MA Family Support hoping to learn about children's services. She is a special guardian and this became a focus for empirical study in her final year.
"The whole experience of studying for her MA, meeting new tutors and students has been life changing. I am so proud of what Michelle has achieved in such a short time and she has been awarded the programme prize.
"Michelle is someone who sees life and study as opportunities and she is about to embark on one of the biggest challenges of life so far, beginning her Doctoral Studies here at Leeds Trinity University."
Read more about the MA in Family Support on the Leeds Trinity University website.