A leading Virginia Woolf academic and Professor at Leeds Trinity University has delivered her latest research findings at an international conference on religion.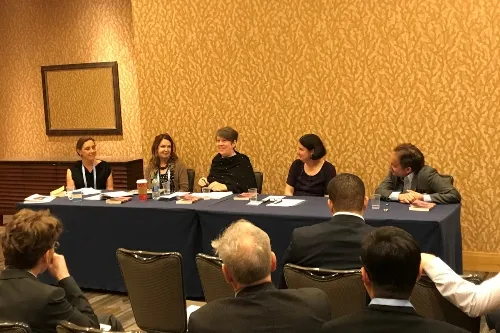 Reverend Professor Jane de Gay, Professor in English Literature, travelled to San Diego to participate in the American Academy of Religion (AAR) Conference, which welcomes scholars from all over the world interested in the study of religion.
Taking place annually, the AAR Conference is the world's largest gathering of its kind, and Reverend Professor de Gay was invited to deliver findings from her latest published book; Virginia Woolf and Christian Culture. Her study demonstrates that Woolf, despite her agnostic upbringing, was profoundly interested in, and knowledgeable about Christianity.
Reverend Professor de Gay also joined world leaders in literary modernism and religious practice on an expert panel to discuss American theologian and Harvard academic Professor Stephanie Paulsell's newly published book, Religion Around Virginia Woolf. Professor Pericles Lewis from Yale University was also on the panel.
Reverend Professor de Gay said: "'It was a great honour to be invited to speak at the AAR Conference along with two Ivy League scholars I admire greatly. Research on modernism and religion is coming to the fore, and it is exciting to be part of this wave of research. My research for Virginia Woolf and Christian Culture reveals that Woolf's debates with Christianity form a more powerful undercurrent in her work than had been acknowledged because of her detailed knowledge and understanding of the faith.
"Professor Stephanie Paulsell's new book, which was launched at the AAR Conference, takes the debate that step further by inviting readers to consider the nature of Virginia Woolf's beliefs. It was also a delight to meet Professor Paulsell for the first time, and I hope this will be the first of many collaborations."
Professor Paulsell said: "I was thrilled when Professor Jane de Gay agreed to travel to San Diego for the panel on Religion Around Virginia Woolf and deeply grateful for the eloquent paper she delivered. I have learned so much from her work over the years, and I hope we will have many more opportunities to collaborate in the future. She is a crucial conversation partner for me."
Professor Jane de Gay's book, Virginia Woolf and Christian Culture, was published by Edinburgh University Press in 2018, with the paperback version published in November 2019. Virginia Woolf and Christian Culture can be purchased on the Edinburgh University Press website. ​​