​​A city-wide partnership between Leeds Trinity University, Leeds Beckett University, University of Leeds, Leeds City Council and local employers to improve graduate retention has been launched for 2020.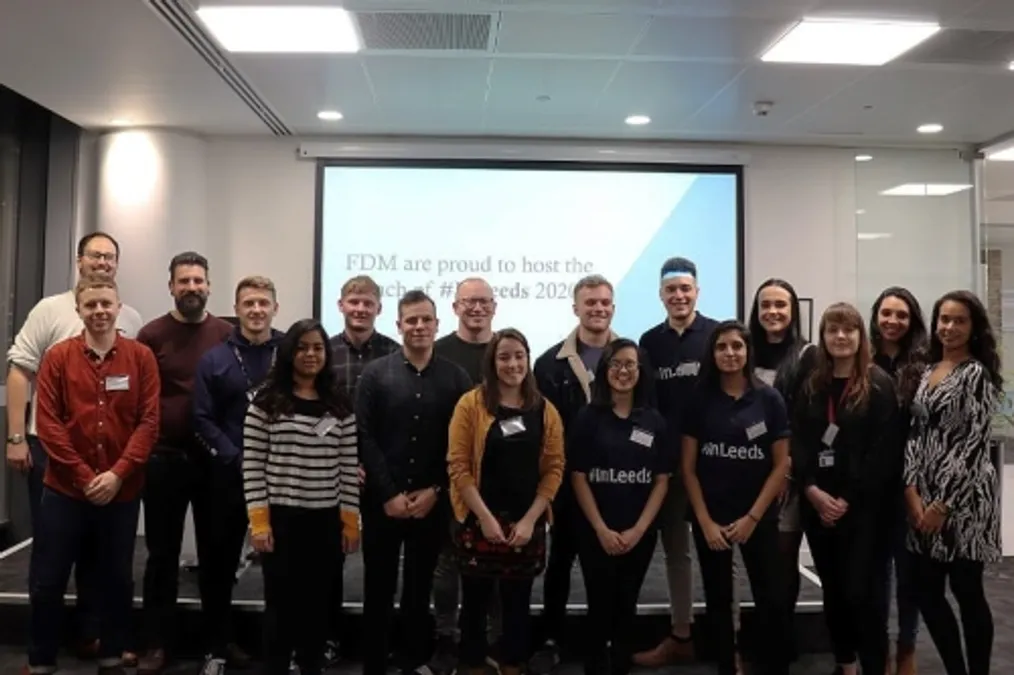 Taking place annually, #InLeeds promotes Leeds as a graduate career destination of choice and highlights the quality of life within the city for young professionals. Students from Leeds universities will participate in a series of events throughout March and April. The aim is for students to see what types of jobs are on offer in the city and encourage them to stay in Leeds after graduating.
At the launch event, hosted by event sponsor FDM Group, representatives from Leeds universities, Leeds City Council and businesses discussed graduate opportunities in Leeds. Julia Massey, Head of Employment, Access and Growth at Leeds City Council highlighted the growing number of opportunities for graduates in the digital sector, with Leeds having the largest digital offering outside of London.
This year's #InLeeds event will aim to tackle the digital skills gap in Leeds as outlined by Leeds City Council, working in partnership with FDM, Leeds Digital Festival and Women in Leeds Digital (WiLD).
Student Ambassadors from all three Leeds universities will promote student interaction with the initiative. For the first time, business partners will also create and share video content on digital platforms, to engage a wider student audience and encourage them to network with Leeds employers.
Ammarah Pandor, #InLeeds Ambassador and Sport Psychology student at Leeds Trinity University, said: "I've always lived close to Leeds and I still love the city even though I've spent over 21 years here so I'm really promoting something I believe in. I saw this as an opportunity to throw myself into the deep end, apply existing skills and to develop new ones."
She added: "I've really enjoyed working with the ambassadors from the other universities and making the most of the mini networking opportunities. We all bounce off each other so I'm looking forward to seeing what we will achieve!"
Tim Feather, Graduate Employment Manager at Leeds Trinity University, said: "We are delighted to be involved in this year's initiative and are looking forward to working in partnership with Leeds universities and businesses. Our aim this year is to increase the audience of #InLeeds by making it interactive with videos which will be shown to Leeds students and then give them the opportunity to visit organisations to learn directly from potential employers."
Since #InLeeds launched in launch in 2016, more than 20 employers have participated in the scheme, giving over 250 Leeds students the opportunity to meet with employers to discuss their career prospects in Leeds after graduating. ​​
To find out more about #InLeeds 2020, visit the University's careers fair on Thursday 12 March, where the myFuture team will have a stand about the initiative. You can also email myFuture.