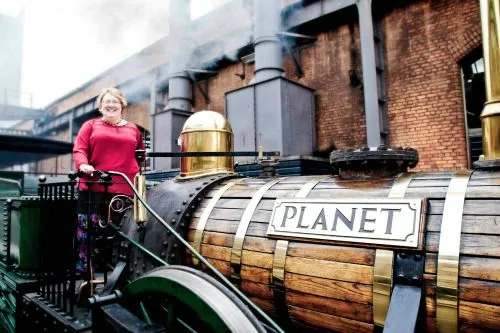 Jeremy Corbyn, current contender for the leadership of the Labour party, has sparked controversy this week in his discussion about providing 'Ladies' Only' carriages on trains, being accused by some, including the writer Libby Purves, of re-introducing segregation, taking women's rights back two generations and in seeing all men as would-be sex attackers. Purves acknowledges the problem, but argues that what is needed is a 'battle-axe', a mature woman to wade in and see off men who threaten and man-handle women on public transport. ​

Dr Di Drummond, Reader in Modern History at the Leeds Centre f​or Victorian Studies, is an expert on women and train travel, not just in Britain but in other areas of the World. What does she think?

"Ladies' only carriages were a feature on some railway lines from the early days of train travel in Britain but were not popular. After a murder of a woman on a train in 1887, a law requiring all lines to provide such carriages was introduced. But most women saw them as unnecessary. Women travelled with their families, or in female groups, while suffragettes purposely ventured alone on trains, defying social views and the few male passengers who might threaten them and probably declaring Christabel Pankhurst's call for, 'Votes for Women and Chastity for Men!' Very few women resorted to a ' 'female chaperone', or Purves' 'battle-axe' for protection! Some Victorian men claimed that it was they who needed to be afraid. The Reverend Kilvert dreaded being sued for breaking promises of marriage if he ever travelled alone with a young woman on a train.

"This is not to say that railway travel was not a problem for women. Sexual assault of women on trains and other forms of public transport such as the Underground, both in the past and the present, was and is very much a reality. It IS a serious crime because it undermines women, their sense of self-worth and their independence. Corbyn's comments were made in response to a question concerning a 25% increase in sex offences reported to British Transport Police last year. This takes this form of crime to a record level on Britain's trains, an increase that cannot just be dismissed with the argument that 'lesser offences' such as teasing and groping, are now included within statistics for sexual assault.

"So is the answer the reintroduction of 'ladies only carriages' on Britain's trains or increased protection (paid 'battle-axes') for female passengers? Only if this terrifying escalation in this crime continues and then, as the past suggests, they may not be used or prove effective.

"In response to this question, Corbyn said that women should be consulted on this matter. But in my view, this problem needs to be taken very seriously by all of British society, by men even more than by women. The terrible New Delhi rape case that took place on a bus, fired up a nationwide protest from women demanding a transformation of societal views on women. The women's campaign demonstrated a nationwide attitude of deep disrespect for women, especially those who act independently. The 'playing, teasing and groping', not to mention more serious forms of sexual assault, that a few men subject women to on Britain's transport system is not 'just fun', it is symptomatic of a similar attitude. Women and men should make it clear that such attitudes and actions are damaging, disgusting and will not be tolerated."

Dr Di Drummond is an internationally recognised expert on railway history, specialising in the railway history of the British Empire (1830-1950). Her interests extend beyond the railway networks and locomotives themselves, encompassing people, paraphernalia and publications with railway connections.