Deputy Leader of English at Co-op Academy Leeds and Executive Coach
Once terrified to speak, I now help people find the courage to tell their stories, speak more powerfully and inspire others.
Making big changes
The transformation in my life, over several years, has been extraordinary. In 2014 I was an unqualified, uneducated and uninspiring twenty-three-year-old, newly married but terrified of everything. I couldn't speak to people, had no idea where my life was going and had no idea where to start. Little did I know that my wife pointing out a job as a Teaching Assistant was going to change my entire life.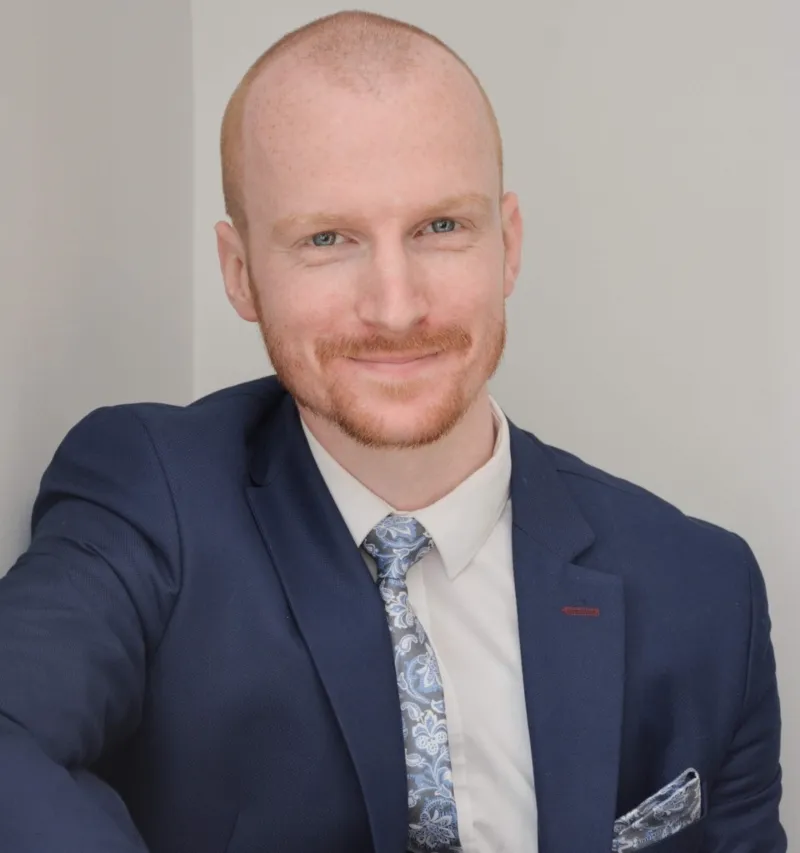 Six years of radical transformation followed. As though studying my bachelor's in English Language and Literature alongside full-time work, a family and a toddler wasn't crazy enough, something then possessed me to study a Master's at the same time as having a second child and being a newly qualified teacher. I now have more degrees than I have hairs left on my head!
Following my passion
I have always loved to read and write but never believed they could form such a central pillar of my personal and professional life. I am an English teacher, helping students develop these skills daily. In 2018, I was just finishing my teacher training and spotted that Leeds Trinity University had an MA course in Creative Writing. Having authored stories and poems when I was younger, I jumped at the chance to indulge my passion, refine my craft and enhance my professional skills.
More than just a course
Alongside wonderful tutors such as Martyn Bedford, Alison Taft, Oz Hardwick and Amina Alyal, I loved the experience of stepping into other worlds as we explored poems, fiction writing, characters and the works produced by other students on the course. The discussions were animated and intellectually rigorous and despite feeling inadequate at first, the warm environment helped me feel welcome, reassured and challenged me to continually refine my work.
The birth of our first child in 2016 was particularly traumatic and resulted in severe complications. During the course, I realised that I was dealing with unresolved trauma. After seeking professional counselling, the course provided catharsis and writing became my way of exploring my grief, anger and self-blame. My final dissertation was a 12,000-word extract of an epistolary to my son in which I explored these feelings and was finally able to process them. It is a work I still hope to finish and publish.
This was more than just a course to me. This was healing.
Helping others find their voices
I currently work as Deputy Leader of English at Co-op Academy Leeds, just across the city. I help some of the country's most disadvantaged children analyse texts, speak confidently, write compellingly, and find their voices. Alongside this, I work as a public speaking, presentation skills and communications coach. Once terrified to speak, I now help people find the courage to tell their stories, speak more powerfully and inspire others. Leeds Trinity University has played a significant role in helping me develop the attributes and skills I now use every day.
Find out more about my coaching
My advice to others
I've seen enough to know that life is short – I made a choice to squeeze as much as I can out of the time that I have (hence the crazy last six years of study, work and family.) It's been exhausting and challenging, but the joy and fulfilment more than outweigh the tough moments. I am grateful to Leeds Trinity University and all who work there for their support and care over the last two years. I have fond memories and look forward to continuing our association in the future.