Teacher and Sports Coach
The idea of us all celebrating together led me to create the Big Mixed Social. This brought all the teams together — we were no longer individual teams, we became a Sports Community.
Why I chose to attend Leeds Trinity
I first heard about Leeds Trinity in High School when researching universities and careers. I then carried this with me into college and instantly booked on an Open Day. When I was on campus I knew it was the place for me straight away. It was small with a friendly atmosphere and everyone knew each other. The course I applied to, Secondary Physical Education and Sports Coaching, included all of my specific subject interests and I thought it would be the best of both worlds by not having to pick between teaching and coaching at the time.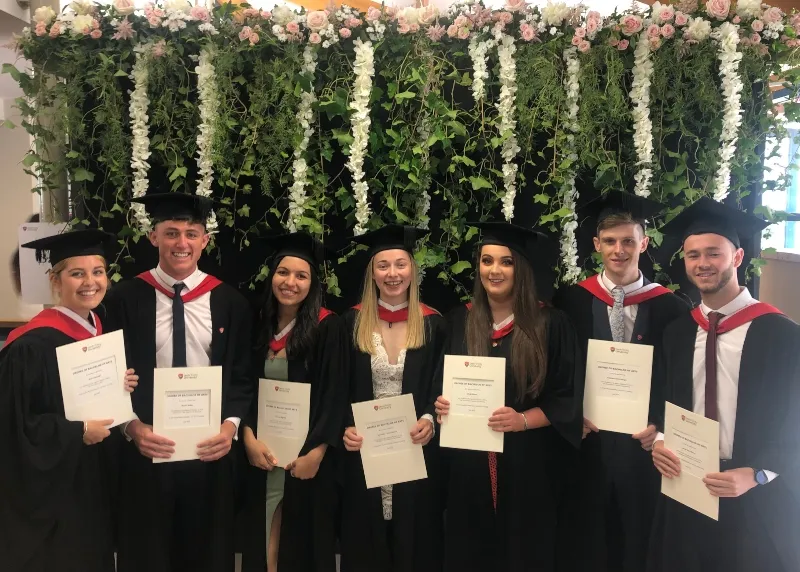 My favourite memories
Some of my favourite memories at Trinity would begin with attending the Sport Residential trip during the second week of University. It created the greatest bond between everyone in sport, and even to this day I have never seen a course group as close as we were!
Another great memory would be Students' Union Sports Awards each year, the atmosphere at that event is amazing! It's the night that all the University worries we have disappeared and gave a chance to celebrate together. The 2018 and 2019 Sports Awards were particularly special for me due to receiving the Event of the Year Award and a Trinity Award. I'll never forget that moment, Alumni Officer Brett Arnall who was presenting the award, spoke about my time at Leeds Trinity and why I was nominated, and then I heard tables starting a slow clap. I never thought I would actually get that award, but seeing the standing ovation I received was heart-warming, it helped me know that everything I had done within my time at Leeds Trinity were worth every bit of my time and effort.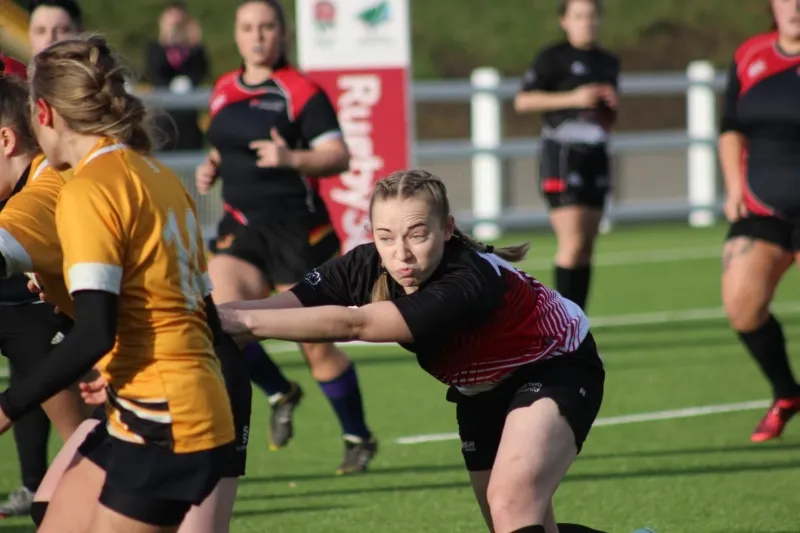 How Leeds Trinity and my role with the Students' Union helped me
I gained a lot of confidence whilst I was at Leeds Trinity. Before arriving on campus (much to all my friends disbelief) I was a very quiet person and didn't do much outside of education and work. But Leeds Trinity really brought me out of my shell, it made me try new sports and roles.
During my second year, I took on the role Social Secretary with the Students' Union. Having friends on lots of different sports teams meant I organised and attended team socials so we could all celebrate a BUCS Wednesday together. The idea of us all celebrating together led me to create the Big Mixed Social. It was an event where all teams were invited to spend their social activity together and play games and see those who they wouldn't get to see on a normal Wednesday. This brought all the teams together — we were no longer individual teams, we became a Sports Community.
Seeing the world through my placements
My placements at Leeds Trinity included being a Camp Counsellor in Ohio (during my first year) and volunteering in Rwanda with Cricket Without Boundaries (during my second and third year). Each one of these placements was incredibly valuable for me, they were experiences that helped shape me into the person I am today and they have also given me an edge that others may not have. Once you come back from these trips, you don't want to stop talking about them. I think these placements were so valuable as they helped you to gain knowledge that you didn't know you needed and it offered a better understanding of the world. Seeing the world and other cultures is something I believe every person should do.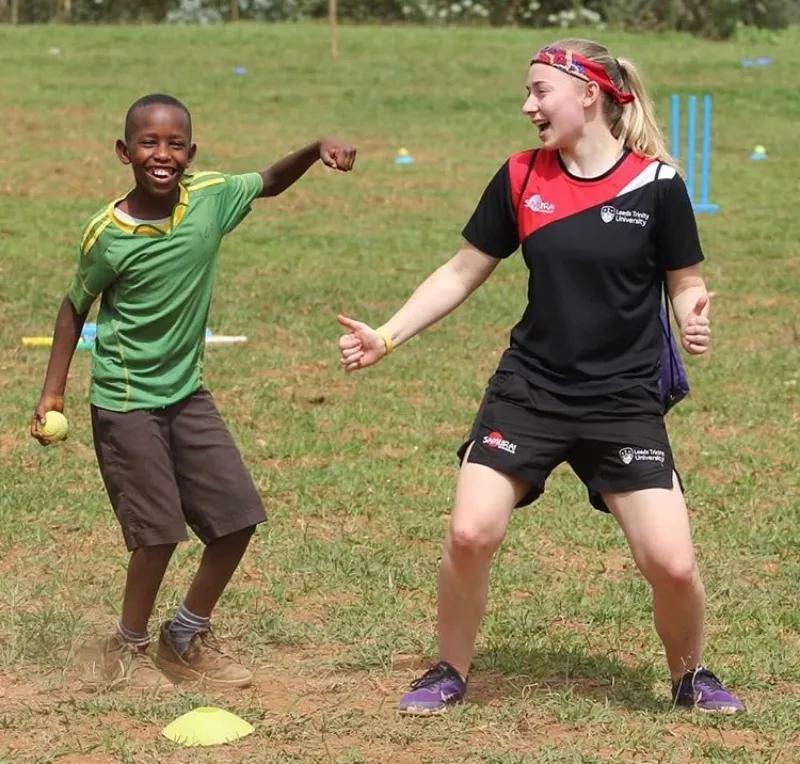 Accepting a teaching role in Kenya
I found a teaching role in Kenya advertised that was advertised on the TES website. After graduating from Leeds Trinity in 2019, I undertook a PGCE elsewhere. After completing the PGCE I was starting to lose hope, as I had applied to so many jobs and not heard back. But as soon as I saw a job in Kenya, I knew I had to apply as volunteering in Africa holds such a special place in my heart. I had always said Africa hadn't seen the last of me, so applying for this was a sign that I was correct!
I start the job in January 2022, when I will move there for two years, or maybe more...who knows. I am most looking forward to becoming a member of staff at the school. A lot of the staff live in a flat block across from the school, where I shall also be living, I have been told it is a very welcoming community and I can't wait to be a part of that. I'm also excited about being in such an adventurous country where each weekend I can visit national parks and go on safari. I am also not too far away from Mount Kilimanjaro, so I am making it my mission to climb to the top of the Volcano!! And on my weeks off, I am only a cheap plane ride away from the white sand Africa beaches!
My advice to Leeds Trinity students
My advice to new Trinity students is GET STUCK IN ! Clubs and societies are the best and easiest way of making new friends and going out of your comfort zone. University clubs aren't all about being the best, I'm sure many will agree with me that it's all about having fun and learning something new.
At University there is no point just following the crowd, this is a time where you can really figure out who you are as a person and what it is you want to be doing in life. Try that new activity, volunteer abroad, change your style up. At Leeds Trinity you are your own person, it's up to you to choose how you use the three years you are there for!