Production Coordinator, Workerbee
I will never forget seeing my name on television for the first time. My family all gathered around to watch the show together and I felt an overwhelming sense of pride when the credits rolled.
Why I chose to attend Leeds Trinity
Before embarking on my career at Leeds Trinity I was studying a Theatre course in London. However, I came to realise that I was unhappy in this field and my passion for television soon had me looking for a new career path. I wanted to study in a city with possibilities, and as the home of ITV, True North Productions and many other independent production companies, Leeds was the perfect place.
Leeds Trinity stood out to me because of it's state of the art facilities such as the in house Television Studio and the Media Centre. As a smaller university, this added to the appeal for me as it meant that tutors could dedicate more time to helping your development. I was also impressed with the placement system at Leeds Trinity and the success rate of Graduates in Employment after Graduation.
My most memorable experiences from my studies
I would have to say the most memorable experience from Leeds Trinity was being able to grow as a person and learn the art of the television industry. One of my most enjoyable experiences was having modules that allowed us to take complete creative control over our work, such as Creative Development (Studio and Location.)
I remember many a freezing cold day at Kirkstall Abbey filming for this module, and despite the stress and tight deadlines the module gave us the first opportunity to experience a location shoot - and the challenges faced with this. Leeds Trinity also has fantastic networking opportunities, Journalism and Media Week allowed me to make contact with professionals in many different fields, and hearing from their experiences again gave me a valuable insight into life in the industry.
The whole studying Media in Leeds experience
Studying Media in Leeds is special because it is constantly adapting and changing, new companies are arriving and shows are being commissioned with Leeds as the home. 2019 saw Leeds win the bid to become the new home of Channel 4 creating hundreds of jobs for media, some of which will be taken by Graduates. Leeds has long been a leader in television and now from the production of Emmerdale to the introduction of a brand new Headquarters, there has never been a more exciting time for Media in Leeds.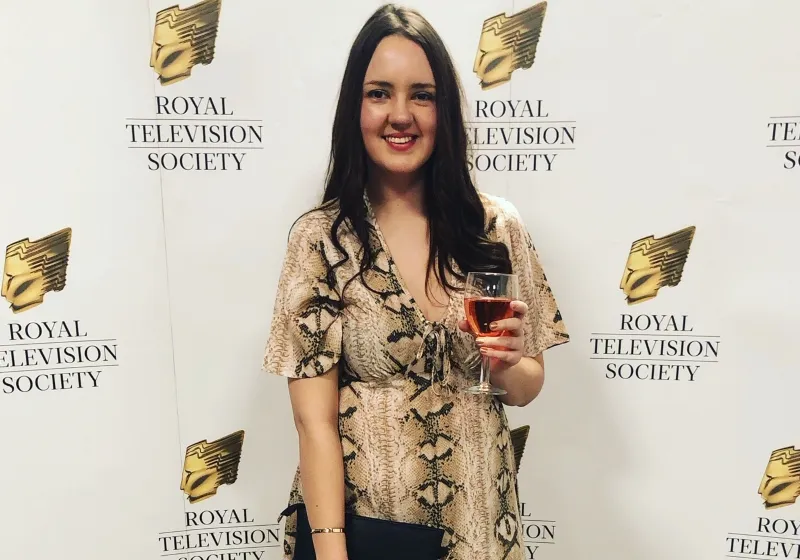 Great career preparation
When you start your course you are assigned a Development Tutor - who is responsible for supporting you throughout your time at Leeds Trinity. I was lucky enough to be assigned an excellent development tutor and his support allowed me to chase every possibility that came my way. I was always contacted by email if something came up that he thought would be of interest to me, and I received excellent academic support in terms of creating and formatting a CV and cover letter for the media industry.
My second year placement at True North Productions also gave me a vital platform to prepare me for my career. I completed three weeks work experience on Channel 5's Shop Smart Save Money during which time I was able to gain an insight into the various departments within television production. Following the completion of my work experience I was offered paid work as a Location Assistant and this led to my first television credit - which has since led me to new opportunities. In addition, many of our modules have required us to complete a legal binder of production paperwork, and this allowed me to gain a strong knowledge of the legal practices required to make television, which stood me in good stead when I began to search for opportunities.
A great job after graduating
After graduating I secured the role of Production Secretary at Wise Owl Films here in Leeds. I was recommended to apply for the position by my development tutor as the role fitted in with my skill set and my interests in the industry. Following an interview I was successful in landing the role. As part of the Production Management team, I assisted the Production Manager with logistics including booking travel and accommodation for shoots, booking kit, organising production paperwork including call sheets, risk assessments, release forms and filming notices. I also helped to oversee the running of the office - keeping the stationery and supplies stocked up - and very important - making sure there is always supplies for a hot drink!
In June 2021 I secured the role of Production Coordinator at Workerbee.
My career highlights so far
I will never forget seeing my name on television for the first time. My family all gathered around to watch the show together and I felt an overwhelming sense of pride when the credits rolled, my mum even cried! I also completed a shoot at Yorkshire Wildlife Park last summer, and stayed in a hotel in Doncaster for five days. This was my first large scale production, and the show was recorded 'as live.'
There were many long days but it was incredible to see the progression from sitting in the office planning all the logistics, to seeing the set come to life at the park, and the atmosphere among the public was fantastic! It's not always stress free, and there are some days that can be challenging - but when you see the final product and you can pick out elements that you were responsible for it makes everything worthwhile and I couldn't imagine working in any other industry, I'm only just beginning my journey, but I can't wait to see what the future has in store for me.
I have been an addidional crew member on productions of Pace (2020), Save Our Beautiful Game (2021) and on Casualty and The Metro: A Rail Life Story.
My advice for a prospective student considering a similar course
Take the time to look at the course outline over the three years - and the modules that are on offer, if you can; attend an open day and meet the tutors, see the facilities and ask any questions. During your studies take the time to make the most of every opportunity that comes your way - the people you meet could be the person that gives you your first job - so first impressions are everything!
It's okay to make mistakes along the way because that's how we learn, but you get out of a degree what you put in - and it's your chance to shape your future the way you choose. That doesn't mean you shouldn't have fun of course, it wouldn't be uni without the stories of 'freshers flu' and many a drunken hangover! From your first day stepping on campus to the day you receive your degree - it will pass by in the blink of an eye and before you know it, it will be over - so enjoy every moment and don't take anything for granted!