SEN Teaching Assistant
Having the myFuture team also really helped me knowing what was available for my career path and which was the best route for me to take after finishing my course.
Why I chose to attend Leeds Trinity
It was an easy choice for me, the other universities I looked around did not have the homely feel unlike Leeds Trinity. I felt at home when I was looking around on my open day back in 2017. Everything was in one place which I loved! The area Leeds Trinity is in is such a lovely and quiet area to be surrounded by, having the choice to be in a quiet area compared to the centre of Leeds was the best thing for me about Leeds Trinity as I came from such a quiet area.
Also, the course that Leeds Trinity offered stood out the most to what I wanted from a course, the placement aspect was one of the other things that made Leeds Trinity, the University I wanted to attend.
My most memorable student experiences
There are so many to choose from! One of them has to be moving in day, that was the most daunting but best days of my university experience. That day marked a whole new chapter in my life, I started my Leeds Trinity journey that day and never looked back.
Another is Freshers week in my first year, meeting everyone I'd been communicating with for the previous six months and enjoying what university life had to throw at me with no responsibilities for the first week of my university journey!
Personal development
Before I came to Leeds Trinity, I was such a shy person. Once I settled in the shyness had almost gone. It was like university helped me with my confidence when meeting new people.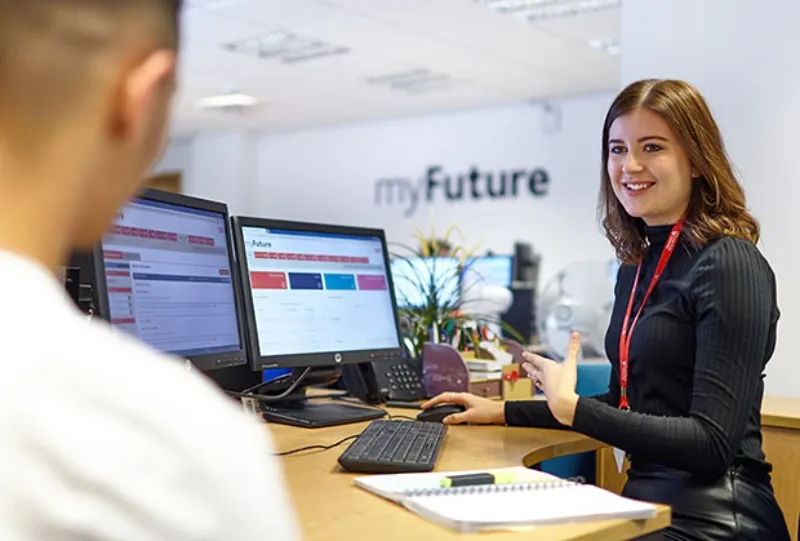 Career advice and preparation
The placement aspect of my degree really helped me to discover what I really wanted to do after university. Without this I could have been in a job that I didn't enjoy.
Having the myFuture team (as pictured above) also really helped me knowing what was available for my career path and which was the best route for me to take after finishing my course.
After graduating from my undergraduate degree, I returned to study for my MA in Mental Health in Children and Young People. I also took on the role as a Peer Learning Mentor (PLM) for the University, providing help and support for students who require any assistance. I enjoy helping other individuals out through PLM, as I know how much additional help can boost a student's confidence and grades.
My advice for a prospective student considering a course at Leeds Trinity
Go for it! Leeds Trinity is an amazing university to study at, as we are told at the start of first year, you are a name and not a number here at Leeds Trinity. That is a very true statement -take it from a graduate who returned to embark on a Masters.
Leeds Trinity courses will benefit in a long run in terms of employability. Having a placement period in first and second year is such a unique aspect to have in a university course, it is something that is not seen in very many institutions.
The experience Leeds Trinity offers helps you stand out from the others.