The Leeds Trinity University City Campus will be located at Trevelyan Square, in the heart of the city and just minutes away from Leeds train station.
As we come closer to opening the doors to our City Campus in the 2024/25 academic year, we look forward to sharing updates on the exciting facilities and opportunities that will be available to students studying subjects that will be taught there.
The following Schools will deliver their programmes at the Leeds City Campus:
The Business School
School of Computer Science
School of Construction and the Built Environment
School of Criminology, Investigation and Policing
The Law School
Ready to apply?
Want to study at our city campus? Find out more about how you can apply today.
Apply now
Facilities
The City Campus will offer a range of modern facilities and services to ensure students can have the best environment for learning, experience and collaboration.
While you'll have access to everything you need for your course on the City Campus, students studying in Leeds will also be able to make full use of the additional facilities available at our Main Campus in Horsforth, just a short train ride from the new campus. This includes the Sports Centre, Media Centre, and the Andrew Kean Learning Centre.
Learning and teaching
Our City Campus will provide a range of learning spaces, study spaces and specialist facilities for the programmes we will run there, including a trading room, board room and business engagement centre, law court and custody suite, and specialist labs for our Computer Science and Construction and Built Environment courses.
Students will also have access to study resources and a wide range of study and open learning spaces to support collaborative working.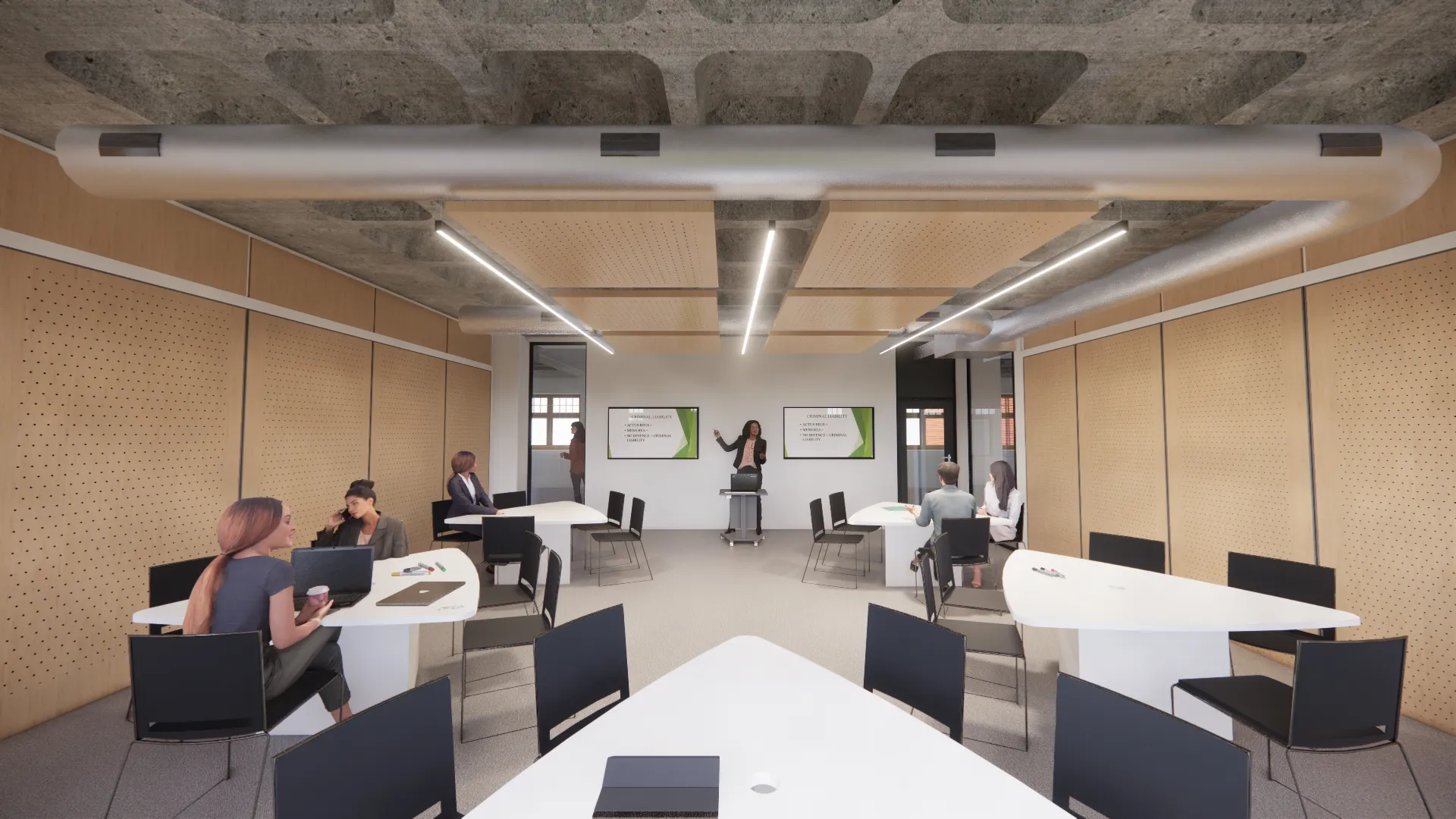 Typical classroom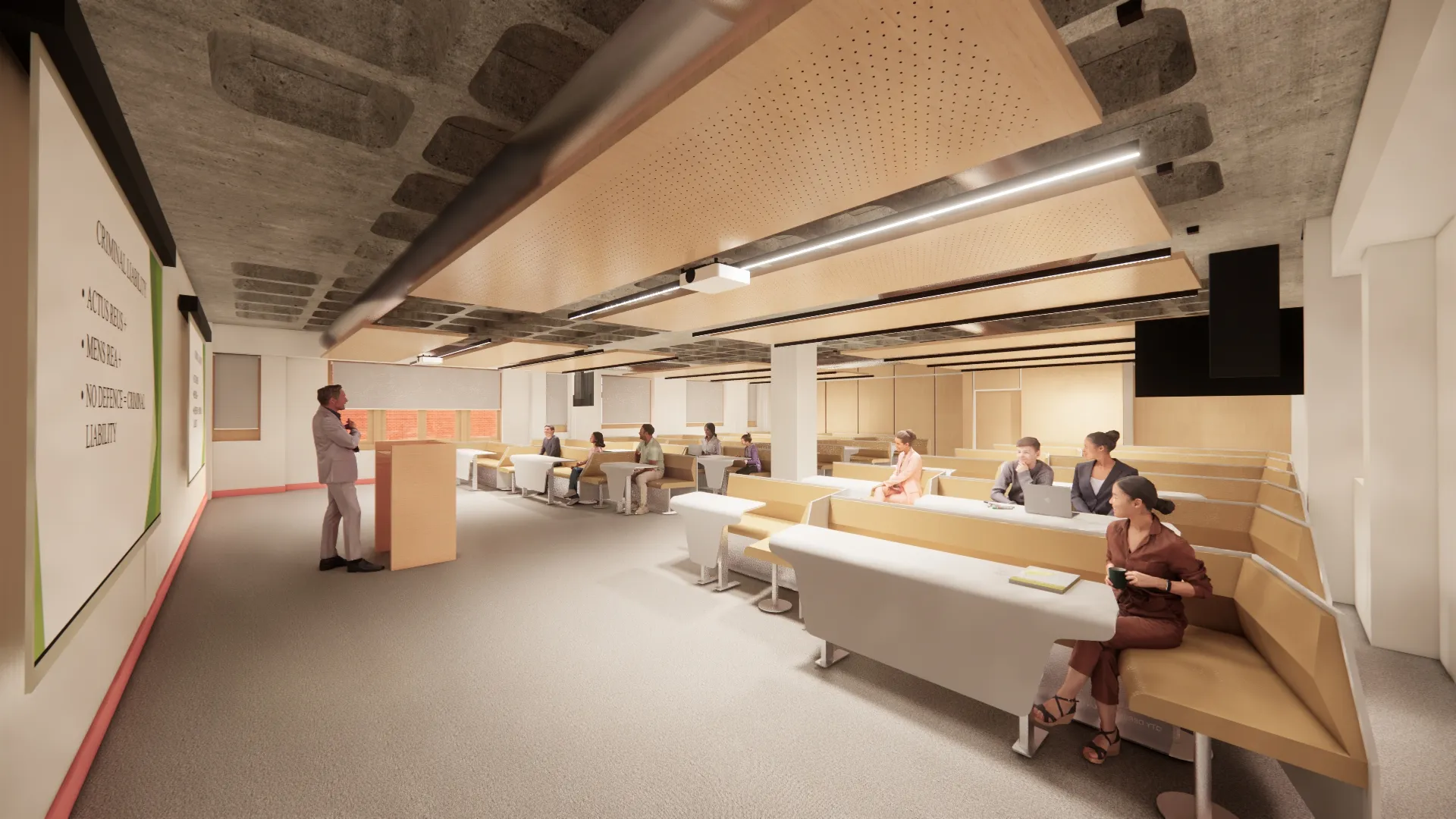 4th-floor lecture theatre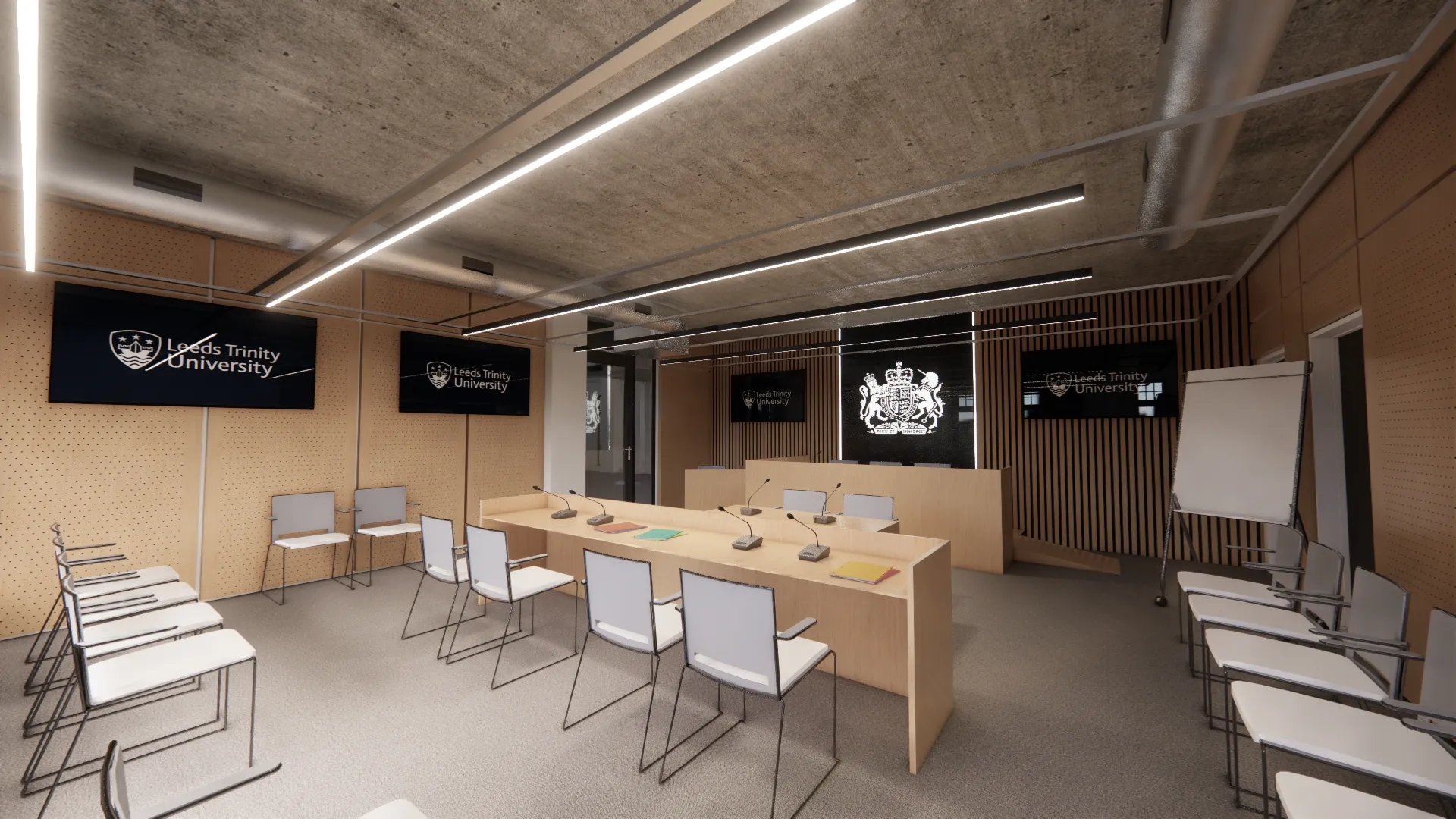 Mock courtroom
The Library
You'll find a bespoke Library space located on the third floor of the City Campus. The Library will offer a range of great study facilities, including a study lounge, Group Study Rooms, and a silent study area for when you really need to concentrate.  
There will be a range of books readily available at the City Campus Library, but students will also be able to request and reserve books located at the Main Campus that will be delivered to the City Campus. Students will also have 24/7 access to our extensive collections of e-books, electronic journals and databases.
The Library will also house the City Campus Helpdesk. The Helpdesk will provide in-person support for Library, IT and Media Services, alongside a Student Information Point for general queries. In addition to the Helpdesk, Liaison Librarians will also be available to provide in-depth support on referencing and making the most of library resources.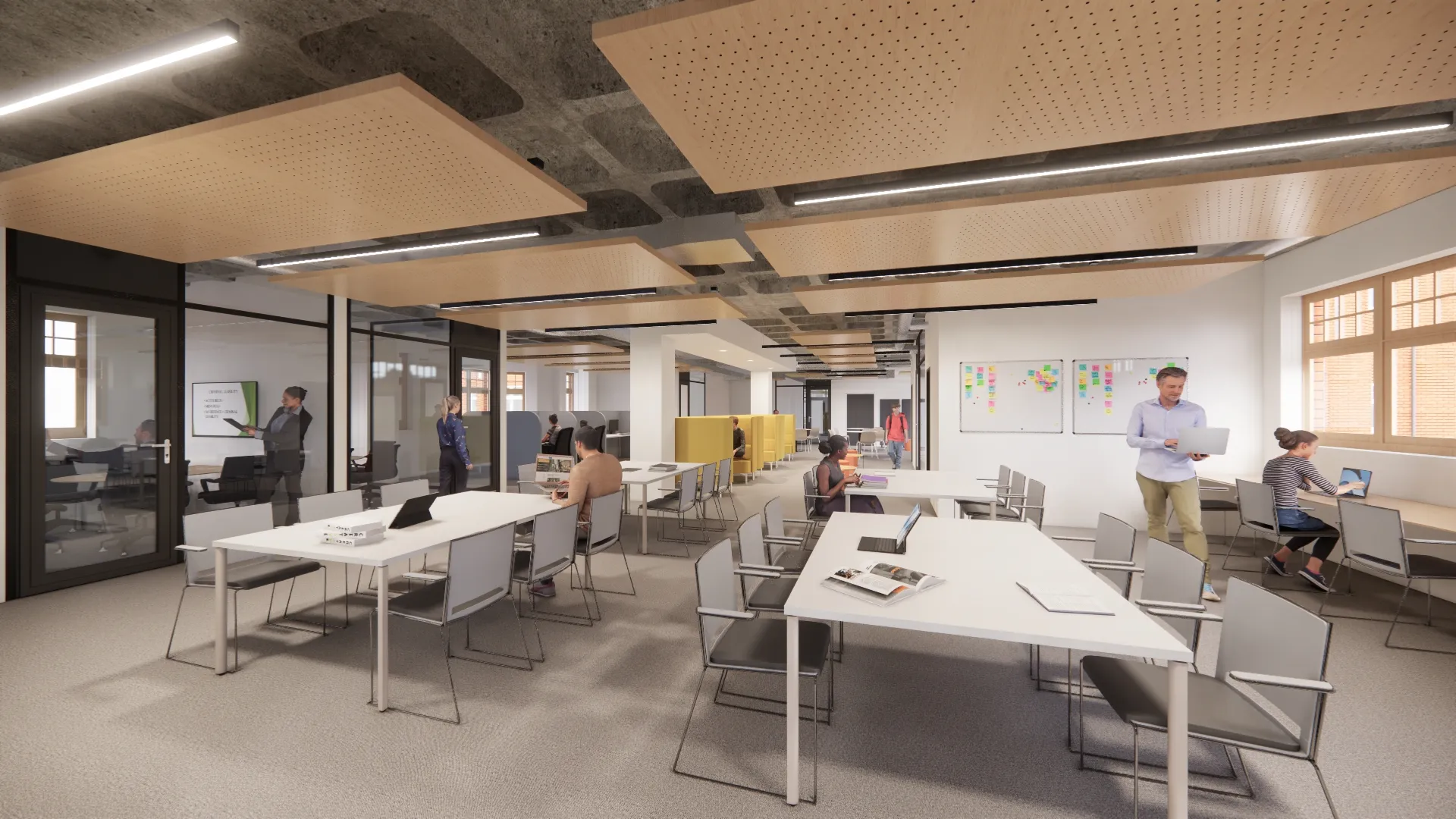 Study lounge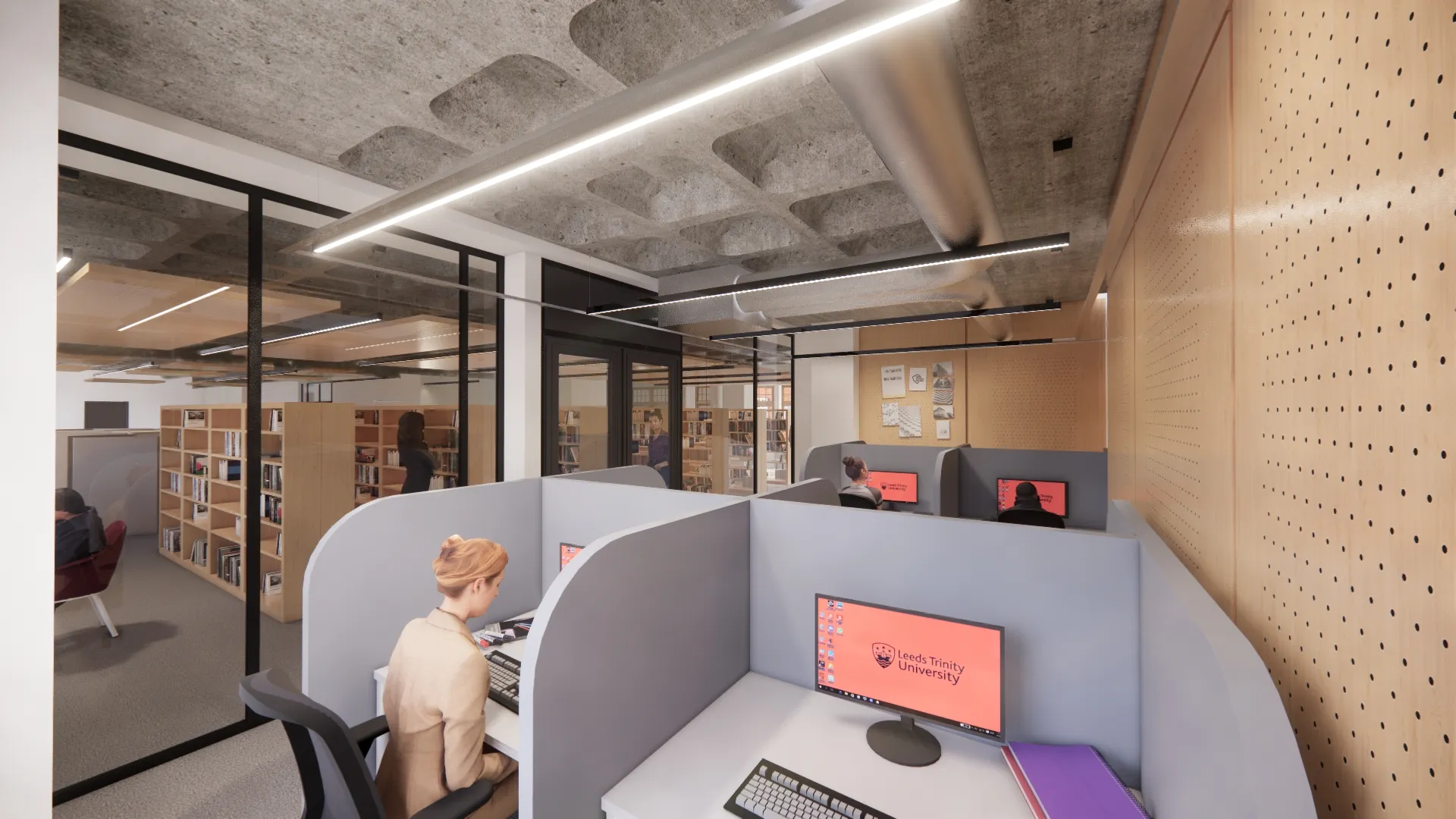 Library and silent study area
Accommodation
We're pleased to confirm that Leeds Trinity University is partnering with Unite Students, the leading provider of student accommodation in the UK, to offer accommodation at Clarence Dock Village less than 20-minutes' walk from the Leeds City Campus.
Located in the city centre, Clarence Dock Village will offer self-catered and en-suite rooms. On-site facilities include a large common room, launderette, and a free gym. Limited parking will also be available on a first-come, first-served basis. Clarence Dock Village has secure access, on-site welfare support and 24/7 security for added peace of mind.
Nearby facilities include a Tesco Express for shopping and a range of cafes, bars and restaurants at Leeds Dock. A 15-minute walk will place you in the centre of Leeds, or you can take the water taxi along the canal and enjoy a short journey with a scenic view of the city you call home.
Rooms will include utility bills, Wi-Fi and personal possessions insurance for the duration of the contract. Whether you're studying at the Main Campus in Horsforth or the Leeds City Campus, you'll be able to select from our full range of student accommodation and stay in the location that best meets your needs.
Accommodation Type
Weekly rent - 2024/25
Annual rent - 2024/25 (41-weeks)

City Centre

Clarence Dock Village

£152.50/£156.00
£6,352.50/£6,396
Student life
Going to university is about more than just studying. It's where you'll make friends, memories and encounter new experiences. And as one of the best student cities in the UK, Leeds couldn't be a better place to live and study.
You'll start your degree with a bespoke line-up of Freshers' activities taking place in and around the City Campus and the Main Campus. From there, you'll be able to join Leeds Trinity Students' Union (LTSU), and the Chaplaincy for events taking place at either campus throughout the academic year.
Both LTSU and the Chaplaincy will have dedicated spaces located on the 1st floor of the City Campus. A communal student lounge will also be located on this floor for you to relax and engage with their services. You'll also be able to join a wide range of clubs and societies, with our sports clubs based at our Main Campus.
Our City Campus is located in the centre of Leeds, placing you just minutes away from everything the city has to offer. Opposite Trevelyan Square you'll find Trinity Leeds, the city's premier shopping centre which includes a cinema and nearly 100 shops, restaurants and bars. If you're looking for something to do, visit Flight Club or Roxy Ballroom for a round of games, or visit one of the city's many museums and galleries. 
Looking for somewhere to unwind?  At our City Campus, you'll find a range of spaces for you to relax with friends, including a student lounge, courtyards, and an enclosed garden where you can get away from the hustle and bustle of the city centre.
The best of Leeds
Culture, music, sport, great food and friendly people. Leeds isn't just one of the UK's best cities, it's also a fantastic place to live and study. Here are our top 10 things to do in Leeds.
Top 10 things to do in Leeds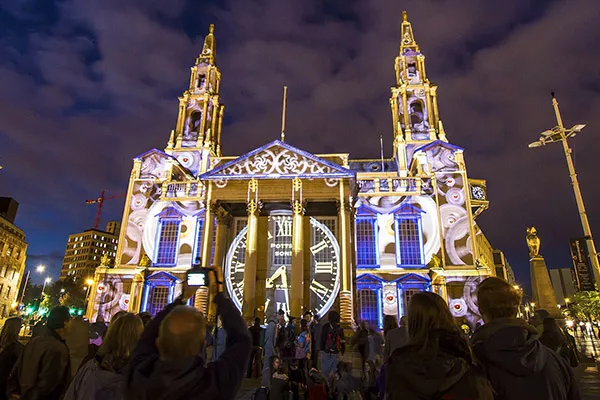 Where to eat
The City Campus has a dedicated café located on the ground floor. Whether you're grabbing something to eat or want to take a break from your studies with a coffee, there'll be a range of food and drink options on offer.
You'll also find a mixture of incredible restaurants, cafes and bars just minutes away from our City Campus. You won't have to travel far either, with delicious eateries like Doh'hut on our doorstep.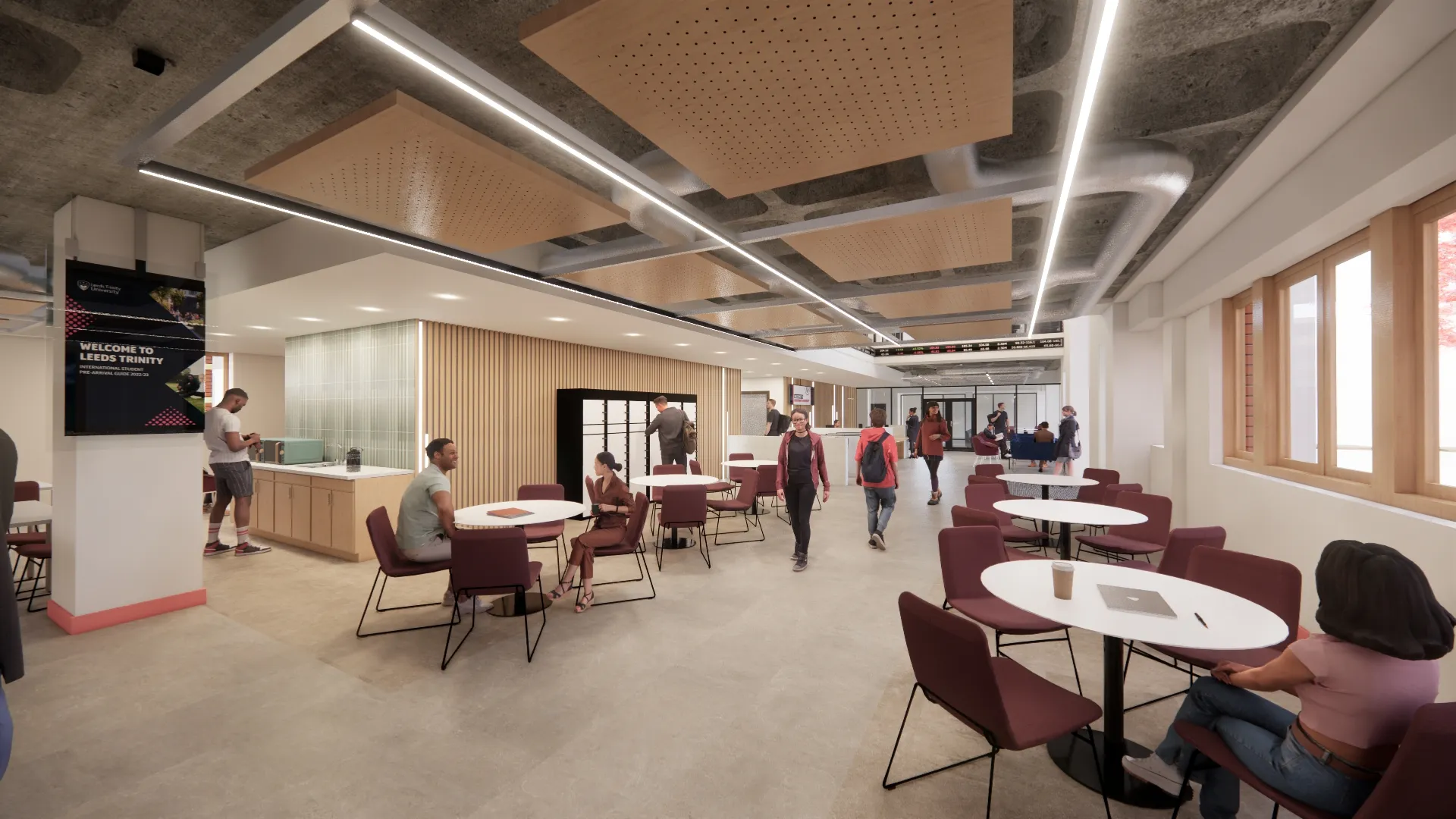 Café facing reception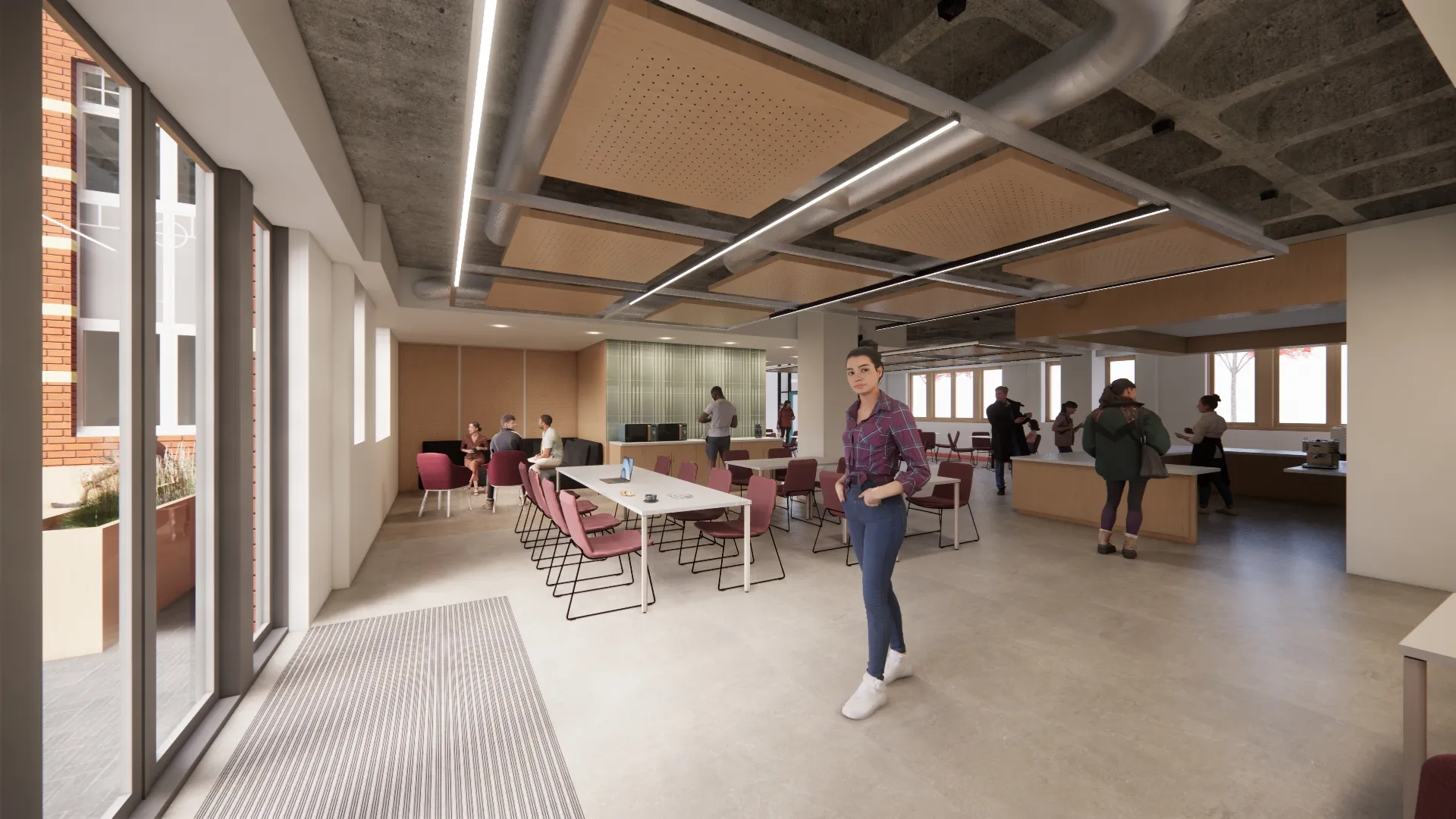 Café counter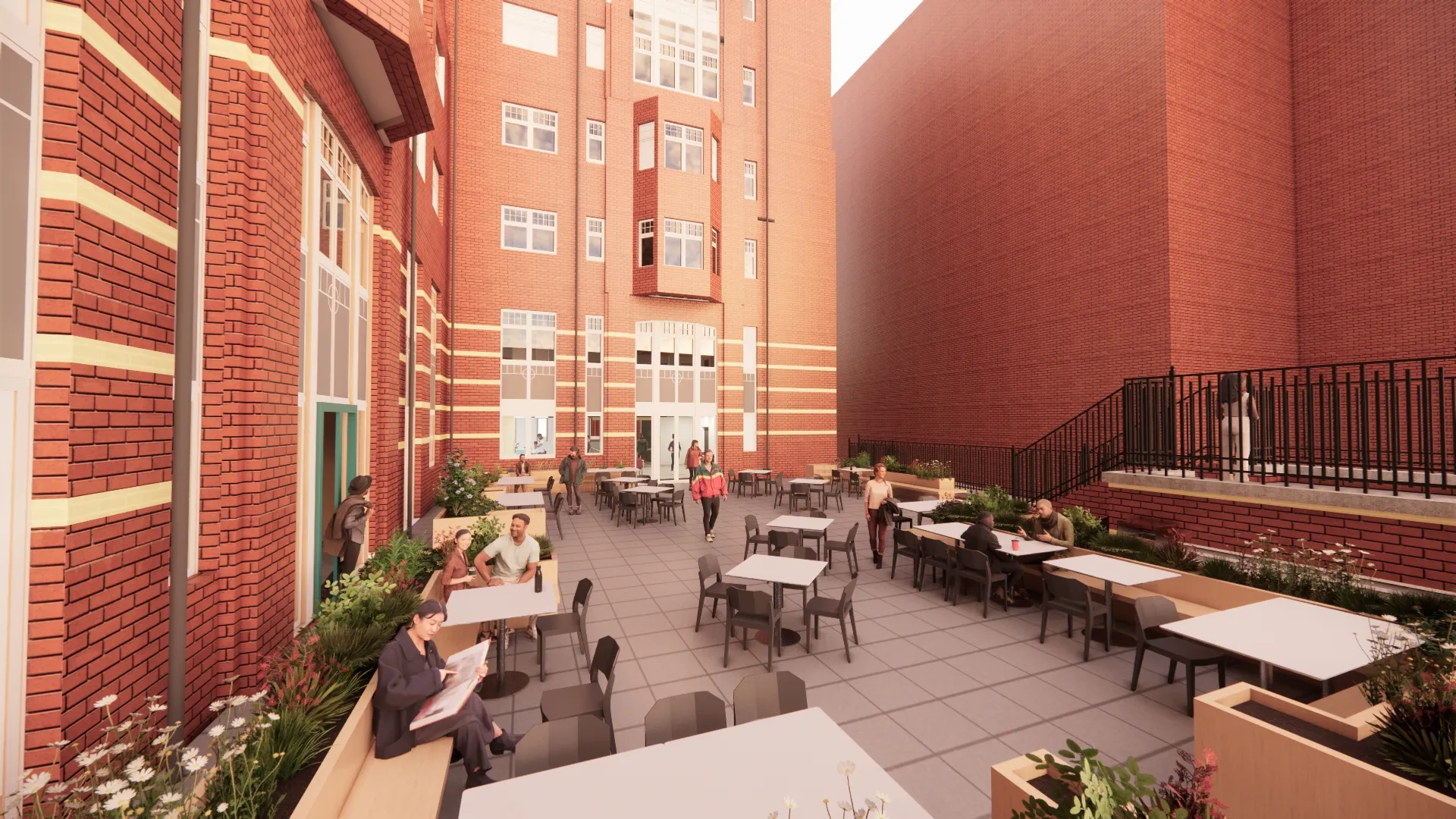 East courtyard
Faith facilities
The City Campus will include a dedicated Chapel, as well as a Multifaith prayer room with wash facilities. Both spaces will be accessible during City Campus opening hours to all members of the University community.
The Chaplaincy team will also have a constant presence at the City Campus, with a dedicated member of staff and a Chaplaincy office where you can access support or go for a chat.
Student Support and Wellbeing
At Leeds Trinity University, we pride ourselves on offering each and every student the personal support they need to realise their potential. That will be no different at our City Campus.
A wide range of services will be available to support you at the City Campus through our Student Support and Wellbeing team. Appointments will be available in person on designated days, with additional support provided through phone, email and Teams appointments. Available services include general support and pastoral care, The Mental Health and Wellbeing Service, Money Advice Service and Disability services.
24/7 mental health support will also be accessible through Togetherall – an online service offering self-help programmes, creative outlets and a caring community through clinically mediated peer-to-peer support.
If you require academic support, the Learning Hub and Student Engagement team will also be available at our City Campus to help you stay on track with your studies.
Transport
Leeds train station is just a 4-minute walk away from the City Campus. From there, it's only a 12-minute train ride to Horsforth, where you'll find our Main Campus.
If you would rather get the bus, Leeds bus station is an 11-minute walk from the City Campus. There are multiple services travelling to key student areas across Leeds, including the 27 which stops directly outside our Main Campus in Horsforth.
Sustainability
At Leeds Trinity University we understand our responsibility to the planet. As an eco-conscious university, we are committed to reducing our environmental footprint, and this ethos is central to the development of the Leeds City Campus.
The Leeds City Campus is designed to meet BREEAM Excellent as a minimum in design and operation. This sustainability assessment methodology is internationally recognised as a robust and holistic sustainability standard for buildings. Initiatives include:
An all-electric and energy-efficient campus, powered through renewable sources and heat pump systems.
Building management systems to manage, monitor and reduce energy consumption across the Leeds City Campus.
Carefully designed landscaping in both courtyards to maximise biodiversity and protect ecological features.
Promoting the use of public transport when travelling to the City Campus, and providing secure bike racks, showers and changing facilities to encourage cycling.