Based in the beautiful surroundings of Horsforth, on our Main Campus, you'll find everything you need for student life, right on your doorstep.
For living
Living on our Main Campus means you're only ever minutes away from the Library, the gym or The Student Bar. Every resident has access to campus facilities, including a laundrette, a lounge with pool tables and TVs, and a postroom.
Discover your home from home
For studying
The Andrew Kean Learning Centre is home to our Library and IT services as well as a range of study areas including a 24-hour study space. The Library is also open 24/7 during key points throughout the academic year, so you'll have access to our facilities when you need them.
Discover academic facilities and support
For relaxing
We know student life isn't always about studying. That's why we've got all your food, drink and entertainment needs sorted, so you can unwind between lectures on campus. Grab a coffee from Starbucks or Costa, refuel in the Dining Room, or catch up with friends over a drink and pizza in The Student Bar.
Discover food and drink
For faith
However faith guides you, find a quiet space at the heart of our Main Campus in our religious spaces. The Chaplaincy team seek to be diverse, accessible and relevant to you as a student - there's no Chaplaincy 'membership' and plenty to get involved with.
Discover our religious spaces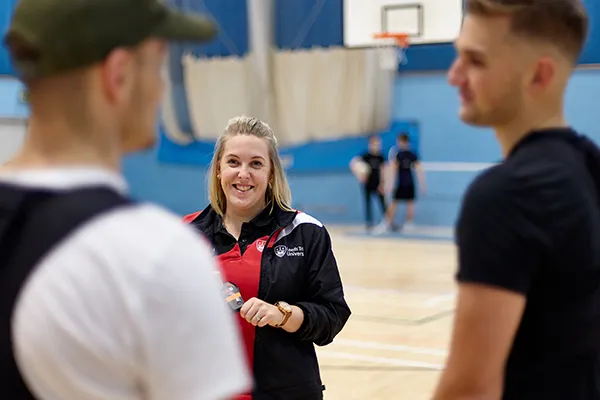 For fitness
Get some headspace and lift some weights in our sports and fitness centre. Whether you like to enjoy sport alone, socially or competitively, there's something for you at Leeds Trinity University.
Discover sports and fitness
Download our Main Campus map
Take a tour
If you'd like to see our Main Campus and take a look around our facilities, accommodation, teaching and social spaces, you could join us at our next open day or explore our from the comfort of your home with our Virtual Experience.
Book an open day
View our virtual experience
Get a copy of our prospectus for everything you need to know about Leeds Trinity University
Join one of our friendly Student Ambassadors who will show you our main campus and answer your questions about what it's like to be a Leeds Trinity student.