A Leeds Trinity University Psychology researcher and audiologists from an Australian-based company have been recognised for their Tinnibot smartphone app, in the third annual prestigious Hearing Technology Innovator Awards.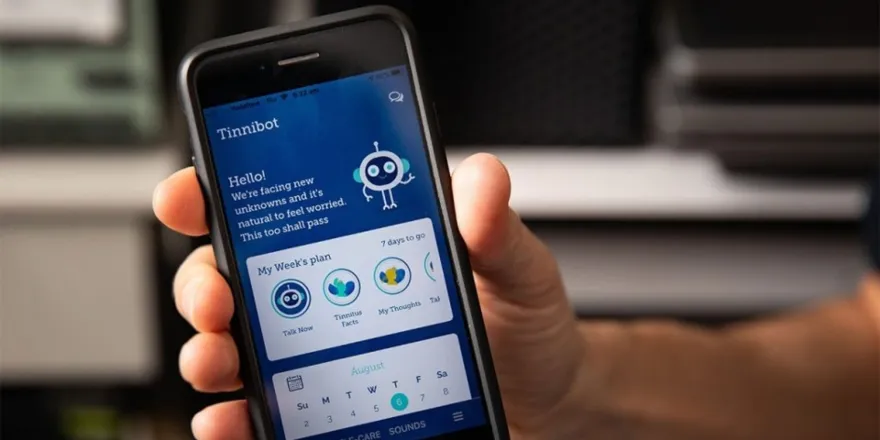 The Innovator Awards recognise the organisations and people who bring new hearing care ideas to life and help drive innovation forward across the industry.
Dr James Jackson, a Reader in Psychology at the University who has lived with tinnitus his whole life, joined forces with Dr Fabrice Bardy and Dr Matthieu Recugnat – the co-founders of HearingPower.co – in 2019 to share their research, knowledge and experience of tinnitus and hearing loss.
Their mission was to find ways to support others living with the conditions that can often be a source of great distress, fear, anxiety and insomnia.
Tinnitus is commonly described as a chronic condition where there's constant sound which isn't coming from the outside world. This sound often manifests itself as ringing, hissing, buzzing or humming noises.
Tinnibot offers immediate relief and long-term effect through a hybrid treatment approach. Based on comprehensive research and therapeutic ingenuity, it represents a prime example of the potential in personalised digital therapeutics.
The Tinnibot app facilitates a new opportunity to receive tinnitus support directly to the user's phone whenever it suits their needs, but it also provides the opportunity to meet with a Cognitive Behavioural Therapy (CBT) expert through a video chat interface.
The mindfulness aspect of the app has been developed by Dr James Jackson, which teaches people how to change negative thoughts and increase resilience through relaxation and meditation, and the audio files are read out by a postgraduate student from Leeds Trinity University.
Dr James Jackson, Reader in Psychology and Programme Lead for MSc Psychology (Conversion) at Leeds Trinity, said: "Tinnibot's USP as a tinnitus smartphone app is the chatbot function as it enables people to talk with the software, being more honest than they may be with another human being. The app is also a gateway to different treatments as it provides education, sound therapy, mindfulness and CBT. Users are supported and have an increased understanding of what they are living with and what support is available to them.
"The Tinnibot app is the first of its kind. There is still a journey ahead and we have the ambition and passion to continue collaborating to be able to help others."
Dr Fabrice Bardy, co-founder of Hearing Power, said: "This award is an acknowledgement of the entire team behind Tinnibot. We have all been motivated by the idea of bringing the latest progress in research to the tinnitus patient using a platform that the patient can manage and bring along through a busy everyday life. I see the award as a proof that we have succeeded in our mission."
Dr James Jackson is a Chartered Psychologist and Associate Fellow of the British Psychological Society. Research led by Dr Jackson into tinnitus is helping to educate healthcare professionals and patients about how to better understand and live with the condition.
Read more about Dr Jackson's research at Leeds Trinity on the website.