The Globalizer app is a tool aimed at educators to make international collaboration between universities simpler and has been coined as 'Tinder for academics.'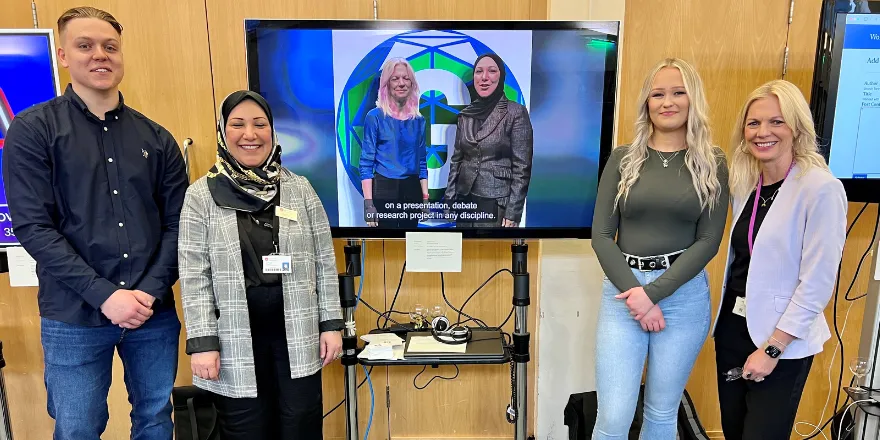 Leeds Trinity University's Katherine Blair, Associate Professor (Professional Practice), and Dr Antesar Shabut, Senior Lecturer in Computer Science, have launched a new mobile app, 'Globalizer', with an aim to facilitate educators around the world to collaborate.
With many universities looking to internationalise their curriculum and provide fresh and exciting learning opportunities for their students, 'Globalizer' allows educators to upload opportunities for collaborative projects which are then made visible and easily accessible to users of the app worldwide.
Based on the original design created by three Leeds Trinity University students, Globalizer works much like the popular dating app Tinder. Users can swipe through projects, and 'like' the ones they want to take part in. They can also add them to a watchlist, or 'dislike' them too. The project's creator then accepts them and they're then able to communicate directly with one another.
The app is the idea of Katherine Blair, who has been teaching Broadcast and Digital Journalism for over 15 years. Pre-covid, Katherine organised for her students to create an international TV news programme together with students from universities in seven other countries and saw an immediate increase in engagement and student performance. With people unable to meet and organise such projects in person due to lockdowns, Katherine explored how technology could allow them to continue by providing educators with a social media-like platform to connect and join forces.
In 2021, having reached out to lecturers in Computer Science at Leeds Trinity University for assistance, namely Dr Antesar Shabut, Yashar Baradaranshokouhi, Jim Diockou and Aliyu Lawal Aliyu, the development process began. Two years on, in May 2023, the Globalizer app has been released and is available to download.
Katherine Blair said: "I am so proud to be launching Globalizer as an app that allows any educator to find colleagues from across the globe and collaborate to create projects for their students to get a sense of working internationally.
"I have been part of projects which have brought journalism and media students together from dozens of universities around the world to create a TV show. I did this the old-fashioned way by networking with people, but Globalizer means anyone can create a project and find collaborators online. My research has shown that students perform better, and engage with the course more, when they connect internationally.
"I hope the release of Globalizer means more educators will partner with others and create a worldwide experience for their students."
Dr Antesar Shabut, lead designer and developer of the Globalizer app, said: "I am excited to see the app launched after so much time and effort was put into designing, developing and refining Globalizer. I am thrilled to see the app released to the world and I am eager to receive user feedback. I am looking forward to seeing how it works in innovative practice."
Academics from universities across the world can show their support for Globalizer by downloading and using the app for free through the Apple Store or Play Store for those with Android devices.
Find out more about Globalizer by visiting the website.
Leeds Trinity University's Corporate Communications team is the first point of contact for local, national and international media. Looking to source a comment or would like to arrange an interview with one of our academic experts? Contact the team on +44 (0) 113 283 7100 or communications@leedstrinity.ac.uk
More about the Press Office